Strain Review: Blueberry Biscuits by Biscuit Boyz
I'm sure everyone has seen the @trap_private_reserve weed out there. It's that new Cali-esque weed brand that started out basically just at AmericannaRX (I'd tag them but their shit got deleted after they handled criticism by arguing on the internet using their actual business page lol). I gotta say, with the mylar bags and hype marketing, I didn't want to like this stuff.
Lineage/Genetics: Unknown
Original Breeder: Biscuit Boyz
Grower: Farmer Ken's
Dispensary: TreeHouse Collective
Blueberry Biscuits Strain Review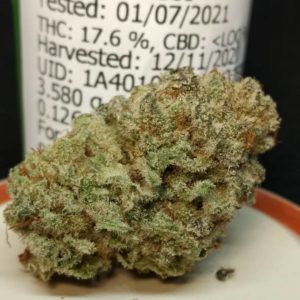 I'm gonna get into the good before I get into the bad. The weed is absolutely covered in pristine trichomes. It's real pretty, has a strong, complex smell, and a hard hitting smoke. I was expecting salt grown mids that tasted like metal and was prepared to shit on it accordingly.
Blueberries dominated the smell, but there was almost a sourness I associate with wine or cider that I've never gotten before. Not like a specific color of wine or even a specific fruit, just a sourness combined with savory tang. Hiding underneath was a really interesting note that really rounded out the brunch terps: bacon. It had a little meatiness skating under the radar.
The high was stoney but not overwhelming at all. Low, dry eyes and a goofy euphoria that'll lull you to sleep if you aren't careful. Really pleasant smoke with minimal anxiety.
-RANT BEGIN-
Now I gotta get into my big gripe. The fucking bags. I seriously hate mylar bags. If it we're just these guys doing it I wouldn't care that much, but I'm seeing them more and more. I have three separate mylar bagged samples right now. Please, stop this literal superficial trash. I don't mean that it's trashy to market on packaging, I mean these bags literally go directly in the garbage and don't serve a real purpose apart from looking cool sometimes. @restashjar will brand jars for you that at least get reused. Get hooked up with them instead of contributing to the death of our planet. Cali farms do this because their weed sucks. Your weed is good enough to set itself apart let it.
-RANT END-
Oh, and grab this from @thc.pdx. They basically have the best pricing on these guys' product. I'm gonna be trying more going forward to see how it compares to this. Hopefully I'll be able to get more into the actual company themselves, too.
Looks like I was wrong about @americannarx__pdx not having a page any more. That's my bad, y'all.
#thehighestcritic #strainreview #strainreviews #weedreviews #420review #portlandcannabis #OMMP #portlandweedreviews #MMJ #oregoncannabiscommunity #portlandcannabiscommunity #oregonweedreviews #Medicate #oregoncannabis #PNWStoners #PDXcannabiscommunity #pdxcannabis #pdxstoners #cannabiscommunity #cannabisreviews