Cultivar Review: Cleaver by Big Smoke Farm
Cleaver (gelato 41 x sherb bx) by @bigsmokefarms
@allseasonsfarms
@getbenny
@ackmooga34
@bsf_los
Lineage/Genetics: Gelato 41 x Sherb bx
Original Breeder: Seed Junky Genetics
Grower: Big Smoke Farm
Terpene Profile: Unknown
Cleaver Cannabis Cultivar (Strain) Review
Reefa rating :
Smell- ✅
Look-✅
Smoke-✅
Taste-❎
High-✅
Memorable-❎
Bigshout to @bsf_los & @titansgreenery
Smell- on the front end I picked up a distinct mild floral with a backend of metallic earthiness.
Look- medium dark purple sandy white nugs, with some dark green & light grayish green hues.
Smoke- smooth inhale, kind of rough exhale. May have just been me.
Taste- in the beginning I picked up a creamy earthy ness but towards the end I didn't really taste much.
High- deff had me spaced out and starving! Felt like the munchies kicked in almost immediately after lol. Felt like the high lives mostly in my head, the body effects were mild to me.
Memorable- I felt like this strain could use some more work on flavor therefore it didn't leave a positive memorable impression on me.
#robbreefa #reefaradio #cleaver #bsf #getbenny #nyc #strainreviews #nycreviews #explore #explorepage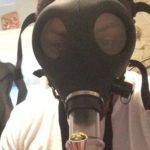 Cannabis Content 🍃🍃🍃
Best Strain Reviews🤣💯
Under 60 secs♻️
Watch before you buy‼️
One of NYC's Top Stoner💨
Nothing for sale🚫
Content intended for ages 21 and over
Check out more reviews and all the videos by @robbreefa on Instagram! (www.instagram.com/robbreefa)
Advertisements