Cultivar Review: GG4 by Mariwood Hollyjane
Gorilla glue #4 (Chem's Sister X Sour Dubb X Chocolate Diesel) by @mariwoodhollyjane99 @mariwood_hollyjane99
Lineage/Genetics: Sour Dubb x Chem's Sister x Chocolate Diesel
Original Breeder: GG Strains
Grower: Mariwood Hollyjane
Terpene Profile: Unknown
Mariwood Hollyjane GG4 Cannabis Cultivar (Strain) Review
Reefa rating :
Smell- ✅
Look-❎
Smoke-✅
Taste-✅
High-✅
Memorable-✅
Bigshout to @mariwoodhollyjane99 for valuing my opinion and having me try this.
Smell- peppery pine mixed with swee earthyness
Look- bright green medium sized nugs, rustic pistils
Smoke- smooth inhale and exhale leaving the smoker with an enjoyable experience
Taste- inhale was funky tasting like almost like a peppery pine almost coffee tasting. Exhale similar to a dark chocolate Smokey musk.
High- it's called gorilla glue for good reason. The high is one one that will leave you stuck! Even for some of those with a high tolerance.
Memorable- last time I had gorilla glue this good was around 2016-2017 and this brought me right back to those times where that's all I was smoking. With a potent strain like this, it's not hard to see why this has won awards. Well done! @mariwoodhollyjane99 @mariwood_hollyjane99
#robbreefa #reefaradio #mariwoodhollyjane #gg4review #nyc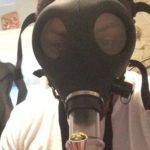 Cannabis Content 🍃🍃🍃
Best Strain Reviews🤣💯
Under 60 secs♻️
Watch before you buy‼️
One of NYC's Top Stoner💨
Nothing for sale🚫
Content intended for ages 21 and over
Check out more reviews and all the videos by @robbreefa on Instagram! (www.instagram.com/robbreefa)
Advertisements