Strain Review: Blueberry Kola by Cherry Kola Farms
Hot drop! @cherrykolafarms_ bringing the Blueberry Kola heat via @humblerootco see details below: #yee
Lineage/Genetics: Cherry Kola x Nepalese #47
Indica or Sativa: Indica dominant Hybrid
Original Breeder: Cherry Kola Farms
Grower: Cherry Kola Farms
Dispensary: Humble Root
Blueberry Kola Strain Review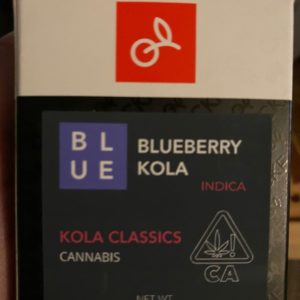 #CherryKolaFarms
#BlueberryKola
#24.8%THC – Indica
1. On the nose: sweet and sour berry vibrations. Kinda deep skunk and musk tones too on the exhale off the nose.
2. Nugs are tight and compact. Colors deep olive green with lighter leaf matter among white trichomes sprinkling across each peak and valley. I'd love to see what this would look like if squished for sure. Their website shows a much more purple nug but keep in mind there is a bit more leaf matter in that image.
3. Hand breaking these dense nuggets reveals more of that blue/black berry aroma; imagine a berry infused wine. Slightly acidic but still on the sweeter side. Looking down, all I see are trichomes across my finger tips. You could opt for a grinder due to the density, but since they are tough to break you risk pulverizing the tree into kief. This bud is not dry by any means, its just holding together better with the finger breakdown.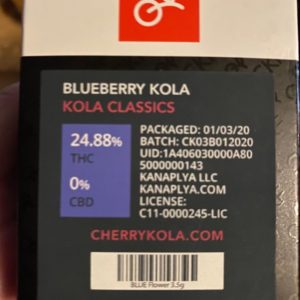 4. Loading up the bubbler for this one. First hit is smooth on the inhale with a slight bite on the exhale. Again berry but its much more subtle on the taste. No cough so far off the first hit. Head change is felt within 90 seconds and it is uplifting to start with a little creep on the lazy side peaking through.
5. Rolling now back to their website on the effects: Elevated mood, stress relief, relaxing, calming, suppress appetite. I'd have to agree 100%.
6. Hitting that 20 min mark and Im pretty much stuck on the couch feeling relaxed. No paranoia but a little anxious to get some chores done around the house; normal but lets see how it goes after hit 3 and we will check back in.
7. Full effect ready to chill. Did some pick up clean up chores so this indica can allow for some activity but let it be known the couch will eventually call you back. Body feels relaxed and the anxiousness was lifted pretty fast after that 3rd rip.
Would recommend.
#cannabiscommunity #cannabis #weed #weedreviews #420 #916 #sacramento #yee #cannabisreviews #trees #stoned #blueberry #kola #cola #saturdayvibes #stoned
Advertisements