Strain Review: Blackberry Kola by Cherry Kola Farms
New Review 🚨 I hope y'all are staying safe! @cherrykolafarms_ Cherry Kola Farms Blackberry Kola.
#BlackberryKola – 22%THC
Lineage/Genetics: Cherry Kola x Blackberry Kush
Indica or Sativa: Indica dominant Hybrid
Original Breeder: Cherry Kola Farms
Grower: Cherry Kola Farms
Blackberry Kola Strain Review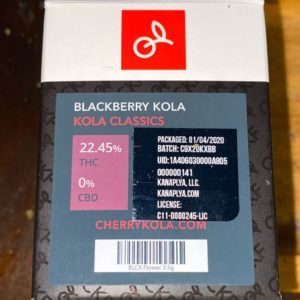 Comments: Glad to see this brand make its way to Sac. I had the pleasure of trying their #blueberrykola about a month back so I'm really hoping this stuff is on the same level.
Review:
1. Scent: Opening the box makes me thankful for a sealed jar. Crack that and bang: 100% berry/earth notes. Kinda "damp" like on the nose. Reminds me of camping when you wake up at dawn…
⠀⠀⠀⠀⠀⠀⠀⠀⠀
2. Appearance: Pretty much varying hues of deep green/olive green bud on the outside. Trichomes are def on point. Not many colors when you break it down. ⠀⠀⠀⠀⠀⠀⠀⠀⠀
3. Nug Structure: Breakdown with ease. The moisture content was great thanks to the seal. I opted for the mr grinder to catch what kief was coming off, if any.
⠀⠀⠀⠀⠀⠀⠀⠀⠀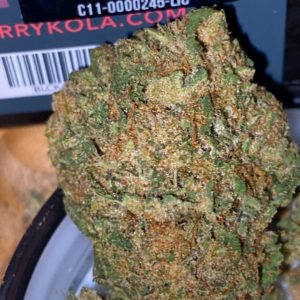 4. Smoke: Smoother over a few strains in the past few months. I'll wait a few days and try the bubbler to just to make sure it's not the ice catcher. TBD. "A Few days later," smoke was still smooth, no rehydration.
⠀⠀⠀⠀⠀⠀⠀⠀⠀
5. Taste: Notes of blackberries blueberries and a refreshing after taste of pine. Def everything I needed right now in this crazy time! ⠀⠀⠀⠀⠀⠀⠀⠀⠀⠀⠀⠀⠀⠀⠀⠀⠀⠀
6. Reaction: Almost instant on the head change and cotton mouth. After an hour plus, I'm still pretty stoned. GF approved of it. We ran through the 8th in a couple days. One of the quicker sessions sadly. 😂 Def looking for more flavors to try.
#cannabiscommunity #cannabis #cannabisreviews #trees #weed #weedreviews #pot #potreviews #marijuana #marijuanareviews #thc #sacramento #916 #420 #yee #legal #cherrykolafarms
Advertisements