Strain Review: Kuzzo Fly Kookies by Cherry Kola Farms
Holy Cow I smoked it before I made the usual photo session. It was that fire. @cherrykolafarms_ @kuzzofly #kookies Kuzzo Fly Kookies #kuzzoflykookies
Lineage/Genetics: Sour OG Cookies x Original Thin Mint
Indica or Sativa: Indica dominant Hybrid
Original Breeder: Cherry Kola Farms
Grower: Cherry Kola Farms
Kuzzo Fly Kookies Strain Review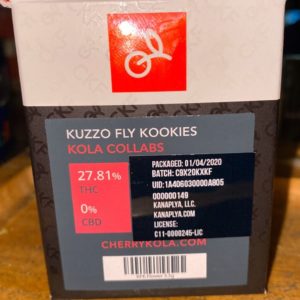 No review at all in the notes but for what I can recall, the smoke was fast on contact on the head change. Smelled great and had that gassy pine rush packed under seal. Broke down no issue and the rest is pulled from their website:
Taste/Smell – Sweet and earthy cookies with a hint of sour
Terpenes – beta Caryophyllene, Myrcene, alpha Humulene, Limonene, Linalool
Effects – Sedating, Relaxing, Elevated Mood, Stress Relief, Calming.
💯🤙🏻🆕🆕🤩 hell yes.
#cannabiscommunity #cannabis #cannabisreviews #trees #weed #weedreviews #pot #potreviews #marijuana #marijuanareviews #thc #sacramento #916 #420 #yee #legal