Strain Review: Mendo Breath by Humboldt Farms
Reposted from my story 🤷‍♀️ but this @humfarms Mendo Breath strain grown by Humboldt Farms #mendobreath is a bit on the tangy side I find.
Lineage/Genetics: OG Kush Breath (OGKB) x Mendo Montage
Indica or Sativa: Indica dominant Hybrid
Original Breeder: Gage Green Genetics
Grower: Humboldt Farms
Mendo Breath Strain Review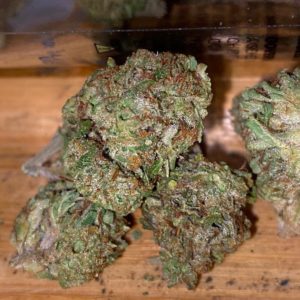 Maybe my sense of taste is tripping cuz I'm quitting cigs (finally) but this ish had me feeling a bit more of a head trip than expected. Decent THC percent in the 20s. Smooth inhale but a little harsh exhale. Hit this with an orange peel as well but going to try the freezer/burp method to rehydrate the next batches. I usually rip the bong, but I'm wondering how this would taste in my bubbler.
What does everyone prefer as your taste test method?
Bongs, joints, pipes, bubs? 🔥🤙🏻🤔
#TGIF
Advertisements