Strain Review: Golden State Banana by Elyon Cannabis
Woot! @elyoncannabis @golden_state_banana #collab Elyon Cannabis grown Golden State Banana.
Lineage/Genetics: Ghost OG x Banana Kush
Indica or Sativa: Indica dominant Hybrid
Original Breeder: Synergy Cannabis
Grower: Elyon Cannabis
Golden State Banana Strain Review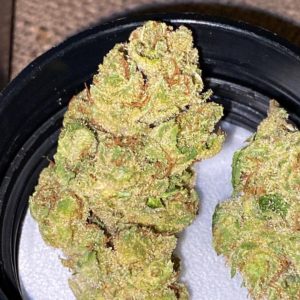 I had this about a month ago and gave it rave reviews so I'm excited to have two jars to go through and test different methods of rehydration. So far this first jar didn't need it. Nugs were cured right, not crumbling like some others I've had from the club but stayed together.
First hit notes: Muted banana/earthy aftertaste from the bubbler.
I haven't smoked in about 3 hours and the head rush hits within the first 2-3 mins of the exhale. I know it says it's a night time strain, but the feeling is certainly hybrid with this head trip right now. Eyes are slightly dim and the low back pain is gone.
The indica feels are starting to sink in about 15 mins after the only toke. So far so good!
#happycamper #weedreviews #916 #sacramento #cannabisculture #bananaart
Advertisements