Strain Review: Green Line OG by Cresco
Green line OG ✅from @crescocannabis
Lineage/Genetics: Lime Skunk x Ghost OG
Original Breeder: Cresco Cannabis
Grower: Cresco Cannabis
Green Line OG Strain Review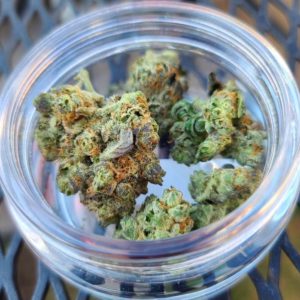 I have purchased this cultivar previously so having a second round gave me a clear outlook on its quality and what can be expected from your purchase.
The visuals on the cannabis was vibrant✨. It has emerald shades of green powdered in trichomes with small sections of lilac purple flower. The nuggets were fluffy and spongey that broke down easily to the fingers. I would prefer it a little more moist and this was on both rounds so I wont blame the fact that I only sampled a gram this time.
The aroma was not strong out the jar there was an herbal smell that you could pick up along with a raw dough. This evolved after crushing the buds and you are able to receive what I recall are very close girl scout cookies nose appeal. It is like a sweet berry flavored pancake mix paired with the soft undertone of OG characteristics.
The smoke was nothing special but it was not terrible. It definitely tasted like an OG strain mixed with hay and dried limes. I felt that it was consistent through the joint never being powerful or super weak.
The cannabis gave you a well balanced effect of sedation and meditation. It put me in a good mood to sit down and write. I could follow my thoughts well but never got racy. I felt patient with my thoughts and calm.
There was things I liked and things I did not. The effects and bag appeal was a delight but the terpenes and nose were pretty weak. Ive noticed a-lot of beautiful flower during this competition being a trend but lack of terps and smell. Its good to know where we are at and where we got to go.
Green Line OG gets a 6.5/10
————
#dispensary #cannabis #cannabiscup #cannabiscommunity #legalcannabis #medicalcannabis #cresco #thc #fsc420 #420 #hightimes @hightimesmagazine #illinois
Advertisements