Strain Review: Gushers by Empire
More Excitement from Empire!
⚡️⚡️⚡️⚡️⚡️⚡️
Lets talk about Gushers from @thinc.distribution !
Lineage/Genetics: (Gelato 41 ❎ Triangle Kush)
Original Breeder: Unknown
Grower: Empire
Distributor: THinC Distribution
Empire Gushers Review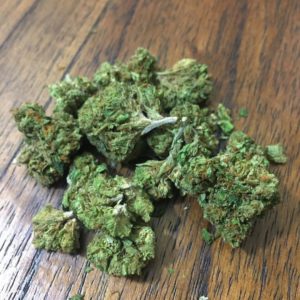 On first encounter I open the jar and bring my nose to a very pleasant aroma from the strain. It was as if I were smelling a candle that was meant to portray the scent of a diesel cannabis strain. I crack open the nuggs which reveals much more of a gassy sensation on the nose.
The nuggets themselves were small to medium sized with a bit more stem then I would prefer. They lacked the sticky aspect but were hard dense and did not granulate to much after the grind.
The smoking experience was the key to this strain. There was not an abundance of flavor considering I am more of a terpene guy but this got me stoned! One of the few where I did not feel the effects were met by a ceiling. In other words the more you smoked the higher you got. Just about until you were high enough to look at the rolling tray and tap out. It starts off as peace and euphoria and slowly turns into couch lock and mental dormancy.
I felt like Gushers took me to a peaceful vibe and it is an experience I wished more people would receive from consuming.
Gushers receives a 7/10 but could easily reach a 9 with more flavor! Great job to the growers and breeders.
#empire #empirecannabis #cannabis #legalcannabis #dispensary #420 #thc #terps