Strain Review: Mint Chocolate Chip by Revolution Cannabis
Mint Chocolate Chip from Revolution 🎯.
Lineage/Genetics: Thin Mint Cookies x Green Ribbon Bx
Original Breeder: Exotic Genetix
Grower: Revolution Cannabis
Revolution Cannabis Mint Chocolate Chip Strain Review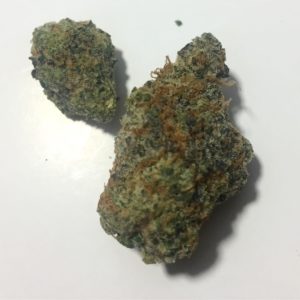 I have been enjoying almost all the strains they have sampled and this was no different. The gem came in the shape of a tiny 🌲Christmas tree. The child of Green ribbon and Thin mint cookies , it came with tight sticky buds, plenty of density with dark tones of green and a few clusters of brownish orange. The trichomes had an eerie 😈eyes in the dark kind of look on them. They stared at you from the dark sections but hid in the brighter sections.
The smell from the jar was strong you are hit with the gassy characteristics of stanky kush packs. It lingered in your nose and keeps you coming back for ➕ extra whiffs It was satisfying after a long list of scentless strains I received in the cannabis cup submissions.
The trifecta was reached with a piney gassy flavored smoke. There was a an enjoyable tingle of 🌿spearmint as well on the exhale that was super smooth it was potent but gentle on the lungs.
The results were a body numbing couch lock affect. I was ultra chilled and was placed into a quiet peaceful mood. Make sure you clear your plans for the day so you can enjoy this one with no restraint. 🧘🏽‍♂️
What more can I say besides great job once again. @revolutioncanna Mint Chocolate Chip gets a 8/10. 🏅
—————
@hightimesmagazine #hightimes #cannabiscup #dispensary #cannabis #legalcannabis #medicalcannabis #thc #terpenes #fsc420 #420 #cannabiscommunity #illinois