Strain Review: Banana Pie by Grizzly Peak
@grizzly.peak Review of the Banana Pie strain.
Lineage/Genetics: (Banana OG x OG Kush) x Key Lime Pie
Original Breeder: Crockett Family Farms
Grower: Grizzly Peak
Banana Pie Strain Review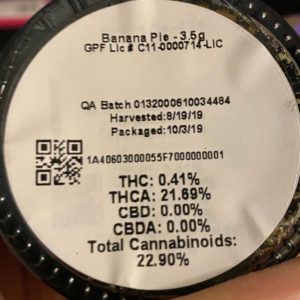 #bananapie – Break the seal and met with what reminds me of my moms banana bread, which is such a great memory. Inspection shows light green rose pink leaves in some smaller spots. Spiked with trichomes and a few purple leaves, the favor is just like the smell. Banana all the way, some slight fruit punch too. Similar to other banana flavors I've had in the past. Kinda harsh on the chest hit but it jacked up body and mind instantly from stress to relaxed.
I throughly enjoy Grizzly Peak weed and this was no exception. A little harsh on the first hit but certainly gets the body and mind tripping out.
#cannabis #marijuana #weed #weedreviews #pot #trees #cannabiscommunity #cannabisculture #cannabisreviews #sacramento #916 #420
Advertisements