Strain Review: Biscotti by Humboldt Farms
**New Review Alert 🚨** @humfarms Humboldt Farms droppin that Biscotti strain #biscotti on ya!
Lineage/Genetics: Gelato #25 x Girl Scout Cookies x South Florida OG
Original Breeder: Cookies Fam Genetics
Grower: Humboldt Farms
Biscotti Strain Review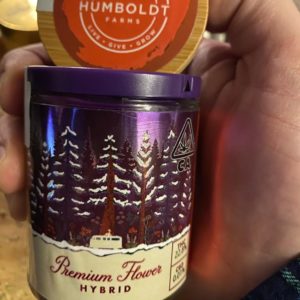 #22.8% THC Content – This little nug packed quite the punch from @humfarms On the first reveal: Dark olive green with bits and pieces of purple spread from inside to out. I get an outdoor vibe to the structure of the leaves. Not coated in trichomes but they are there. Resin is missing from my finger on hand breakdown but I must note they hold together off the stem pretty well.
Smells of berry/purple esque with earth undertones. She feels like she was bread using the sunshine.
First rip off the bong, Deep smoke cough with Peppery spice exhale.
Instant head change creative mind expanding even to new ideas and concepts. Trippy is what I typed like 5 times when starting this review…
Calm sense in the body, expected from this hybrid, mind is rushing around tho. Body high wains about 40 mins in on the back. Head high still goin strong. Relaxed. Final perspective: Perfect for those hard days when you are ready for the snooze button . Had to pack a 2nd to make sure I was going to la la land but this hybrid knocks ya if you are not paying attention. I don't really drink anymore so if you are boozin and smokin you would end up pretty fucked up Tbh afterwards.
weed #weedreviews #thc #cannabis #cannabisreviews #herb #trees #pro64 #prop215 #legal #sacramento #yee
Advertisements