Strain Review: Kosher Jack by Pearl Pharma
🆕🆕Review!! @pearl_pharma 💯😀🔥 Kosher Jack
#KosherJack – 23%THC
Lineage/Genetics: Kosher Kush x Jack Herer
Indica or Sativa: Sativa dominant Hybrid
Original Breeder: Pearl Pharma
Grower: Pearl Pharma
Kosher Jack Strain Review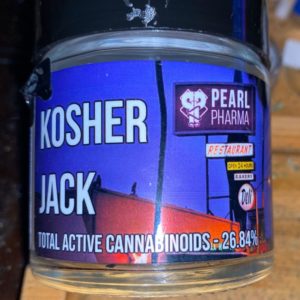 Comments:
Stoked as shit and as you can see, I'm a fan of Pearl Pharma haven't had a Jack strain in a hot min. Let's see how this jar works out this week, gearing up for 420!
Review:
1. Scent: Damn! Welcome back to the SF prop 215 days. Skunky/Sour and tangy. My mouth instantly puckers and salivates. Little bit of sugar sweet, lemon with sight spice note or two but not a whole lot.
2. Appearance: Hella pretty bright green with a ton of Trichomes. Getting deep with a zoom really shows how each kola and leaf is stacked, no cap. The trichomes are really popping with hairs lookin like dew in on the morning grass. No worries on the beautiful scale. Winning AF.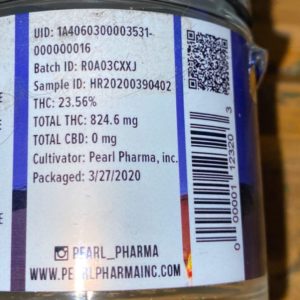 3. Nug Structure: Not too dense and not fluffy at all. Cured super nice and per usual, breakdown with no issue. The moisture content on point but I did add an orange peel (GF request). Few bowls by hand, majority were using the grinder to catch the kief. Pulls off the steam cleanly, which is perfect cuz I'm working on making a few rounds of weed tea for 420. ⠀⠀⠀⠀⠀⠀⠀⠀⠀
4. Smoke: Thick smoke, not harsh at all with an ice catcher bong. Great off the bubbler, leaves your mouth with slight spice on the exhale. I didn't laugh at all the first few days but the GF def did.⠀⠀⠀⠀⠀⠀⠀⠀
5. Taste: The Sour and tang terps def hit some people certain ways; the lady is not a fan of some strains that have this type of sour vibe (sativa strains typically) but I lived off Trainwreck and Jack for years back in the Prop 215 days. So if you are a fan of the head rush this will hit hard. Just what I needed. ⠀⠀⠀⠀⠀⠀⠀⠀⠀⠀⠀⠀⠀⠀⠀⠀⠀⠀
6. Reaction: It was a pleasant surprise to see Pearl run this under their indoor grow. Its frosty, great for an uplifting stone but will kick your ass towards the last leg. Straight ripped this off the bubbler for about an hour while gaming on #Warzone and ended up with a win! I'd recommend.
#cannabiscommunity #cannabis #cannabisreviews #trees #weed #weedreviews #pot #potreviews #marijuana #marijuanareviews #thc #sacramento #916 #420 #yee #legal #kosherjack #happy420