Strain Review: Slurri Crasher #1 by FloraCal Farms
@floracalfarms_ put out a frosty Slurri Crasher #1 #slurricrasher which is covered in crystals exposing chunks of dark green tree underneath.
Lineage/Genetics: Slurricane x Wedding Crasher
Indica or Sativa: Sativa dominant Hybrid
Original Breeder: FloraCal Farms
Grower: FloriCal Farms
Slurri Crasher #1 Strain Review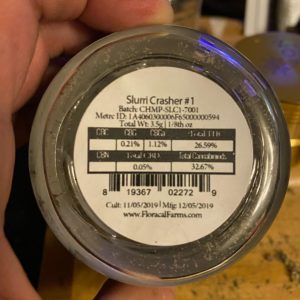 More of a muted Kush sent with ever so slight berry hue. I didn't find this strain on their website, but I assume this is a wedding Crashers hybrid. They described fuel and sweet berry for that one but I am not getting fuel Off this one.
The nugs are pretty dense but avoid the grinder twists. Would make too much kief and not enough flower. The bong hit is on the harsher side along with the exhale, but the high is pretty instant. Mind melt interjected with brief moments of clarity.
The body high is decent but short while the brain is still racing from thought to thought.
Munchies in full effect about an hour into it.
#weedreviews #cannabiscommunity #cannabisculture #cannabisreviews #sacramento
Advertisements