Strain Review: Terple by Tribal
🍊 Tribal – Terple
Lineage/Genetics: Tropicana Cookies x Slurricane
Original Breeder: In House Genetics
Grower: Tribal
Terpene Profile: Unknown
Terple Cannabis Cultivar (Strain) Review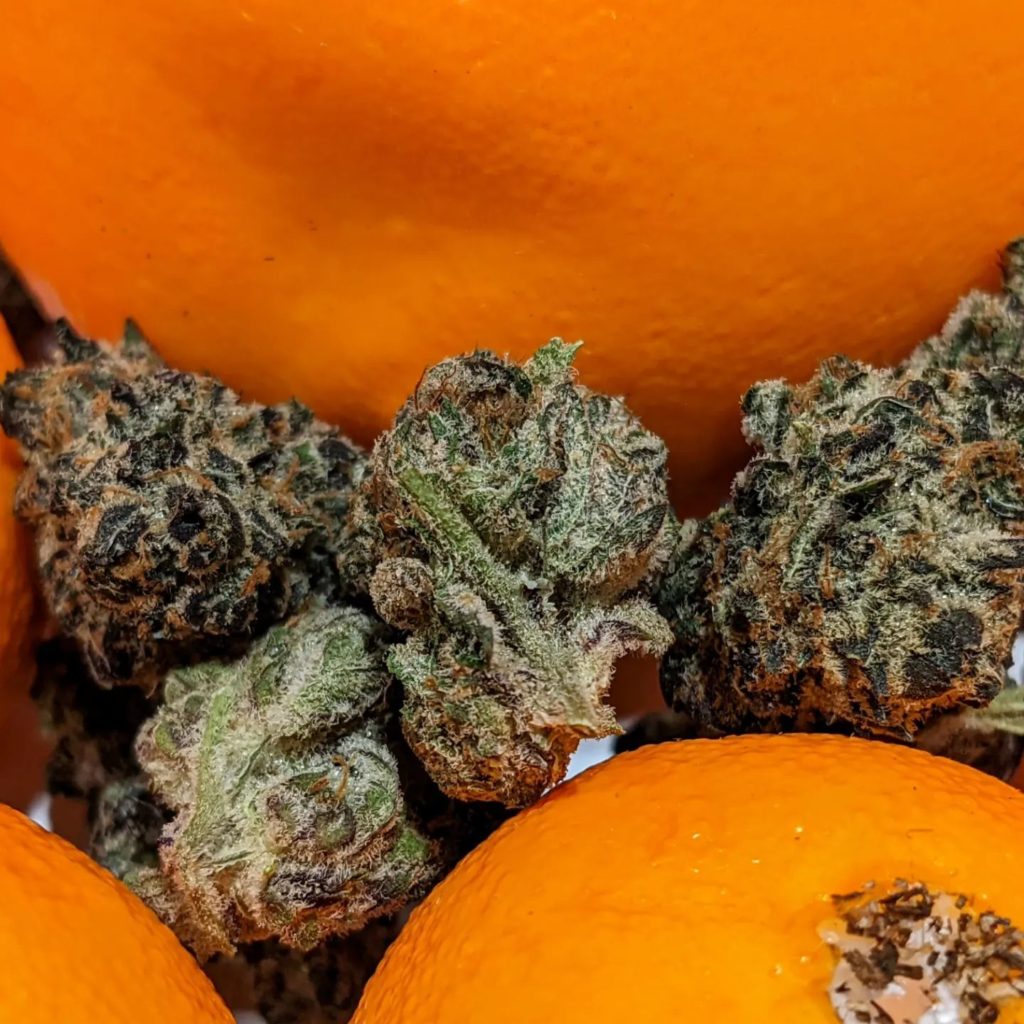 We had to get this one. It's named after me! Tribal has continued their Tribal thing, using their fully vertically integrated model to put out the best flower on the market, at their mid tier price.
Terple crosses Tropicana Cookies with Slurricane, but is really best explained as a cross between the Tangie side of the former and the Purple Punch side of the later.
Crack the can and the room fills with the bright clementine aroma from the Tangie genetics. It is sweet and refreshing. The nug selection is average for the price at most around .3g, but like all Tribal, there is absolutely no shake. The trim is perfect and it stayed fresh in the tuna cans. It is a deep purple, almost black, which it gets from the Purple Punch genetics, sure to delight the highschool stoner in all of us.
When smoked the taste somehow comes through even stronger than the nose. Again bright clementines, but with a bit of diesel on the exhale. I found it a bit harsh compared to other Tribal, though it's still silk compared to most at this price.
The high is on the lighter side (for daily smokers) keeping in line with its 20% THC. From the Tangie side we get a great boost in physical energy, while the Purple Punch keeps it from getting racy or anxiety inducing. I've been using it as a wake n bake, with it providing the motivation and pep needed to start my day. But I'll have to be careful doing so with the calming influence of the Punch making it more stoney rather than clear minded. Dealing with eccentric customers gets easier but dealing with a spreadsheet is a no go.
Overall this bud truly does my name proud! It's all about the terps, flavor, and very specific effects. If looking for a lighter option to keep in your stash, that still smokes with the higher end experience of a quad, you can't do better. Tribal y'all figured out, please just keep doing your Tribal thing. 🍊👅🍊😊🍊
#tribal #terple #tropicannacookies #slurricane #tangie #purplepunch #purpleweed #purplenugs #purplebud #purplemicropics
Hey my name is Sean out of Body and Spirit Cannabis, a fully independent licensed bud store at Yonge and Dundas in Toronto. Super sensitive to strain differences, I like to keep a bunch on hand for exactly what I want or need to feel. The alternative is my day is ruined or I don't get to smoke! Be sure to check me out @sean.bodyandspirit for a full list of reviews and stop by the store to say hi and check out the new drops we're smoking!
Advertisements