Cultivar Review: Morning Dew by FloraCal Farms (Cresco)
So I picked up my first jar of @floracalfarms out of Sonoma Cali that has been a staple out there. So when they made there way out here I had to get my hands on some and the first one I saw was Morning Dew.
Lineage/Genetics: Alien Bubba x Durban Poison
Original Breeder/Grower: Cresco
Brand: FloraCal
Terpene Profile: Unknown
Morning Dew Cannabis Cultivar (Strain) Review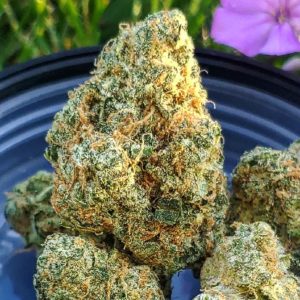 It wasn't till I researched it that I found out it isn't even an actual Cali FloraCal strain. Just some renamed @crescoofficial weed that was originally dubbed Alien Durban then Breakfast Bubba and now under the FloraCal moniker as Morning Dew. Even on FloraCal's website they've never had a strain called Morning Dew and since Cresco bought out the company when it made its foray into California a few years back it's not like the company made a distribution deal with Cresco. They own FloraCal and can pretty much do as they please with the label so hence these rehashed strains. Anyway I'm done with the rant so lets get on to the review. This is a Sativa dominant cross of Alien Bubba and Durban's Poison which was originally bred by @crescocannabis.
BAG APPEAL
Well manicured five nug eighth of some pretty dense mint green nugs with bright shaggy pumpkin orange hairs. Its almost like they kept all the headies for the FloraCal label. Cure is on point breaking down sticky with plenty of greasy trichomes the color of harvest wheat. 23/25
AROMA
Leaning heavy on the Durban's Poison with the Terpinolene terpene taking over like some turpentine spilled on your garage floor. Heavy artificial pine and floor cleaner that really singed my nostrils. Breakdown adds a bit of kerosene fuel and pine cone notes to the mix. 22/25
FLAVOR/BURN
Heavy pine needles upfront like some cheap gin that cools down on the back end where a mix of gas and hash from the Alien Bubba kicks in. Dry pull on the joint is like Christmas with fresh pine that burns bright white ash and heavy resin ring. 21/25
EFFECTS/BUYBACK
After the fourth puff my head was buzzing with that quick morning pick me up to get the day started right with a 45-60 min buzz. Just a touch of raciness that can be handled easily by staying busy. This is one I wouldn't buy again based on my preference but would recommend to anyone that like haze or Jack Herer. 21/25
87-points #weedadvocate
#morningdew #floracal
Advertisements