Strain Review: Funnel Cake by FloraCal Farms
Yee two for two today!
. @floracalfarms d @seedjunky_jbeezy
. @lemonnadesacramento
. @trunorcal420_
. @westcoastsmokeshow
Brand: FloraCal x Seed Junky
Cultivar: Funnel Cake
Lineage/Genetics: Platinum GSC x Grease Monkey
Original Breeder: Seed Junky Genetics
Grower: FloraCal Farms
Dispensary: Lemonnade Sacramento
FloraCal Funnel Cake Strain Review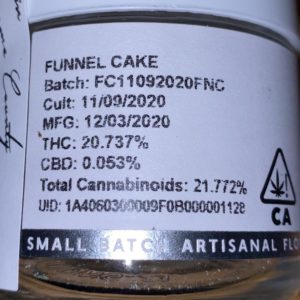 20.737%THC
0.053% CBD
21.772% Total Cannabinoids
Cultivation Date: 11/09/2020
Mfg Date: 12/03/2020
Comments: I've had great times with FloraCal and I knew this was gunna set me up right if backed by Seed Junky's. Had a few of his cuts already and was KOed.
Review
1. Scent: Wet pink if that is a smell. Kinda musky sweet on jar opening and on breakdown. Lovely vibes.
2. Appearance: Lots to look at. Gold, yellow and milky white "spilled" milk trichomes food the bud. This shit would be wild as hash I bet.
3. Nug Structure: Tight but not overly dense. Good for the grinder as I'm going to harvest the F outta those trichome heads. 👀
4. Smoke: At first bowl it was tight on the chest. 2nd hit was much more relaxing off the bub. Heavy tho.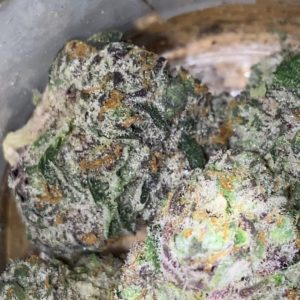 5. Taste: Whoa. Cotton style candy like fruit. It's pleasant but def a heavy hitter.
6. Reaction: I can feel my right side of the brain slowly disappearing into an oblivion of clouds. Good sedation for mind and body. Def a sleepy jar for bedtime.
7. Conclusion: Hits just hard and right! As we smashed this 8th around Xmas time, we kept it on the bedside. I could not keep my eyes open. Always a fan of FloraCal, their brand is def on my "to do" list nearly every time I hit the shop. I like the flavors they are dropping right now and can't wait to try more in 2021!!
#NoHashTagz
Advertisements