Strain Review: Crème de la Crème by Team Elite Genetics
Crème de la Crème
@teamelitegenetics
Lineage/Genetics: (elite OG X Gma's cookies)
Original Breeder: Team Elite Genetics
Grower: Team Elite Genetics
Terpene Profile: Unknown
Crème de la Crème Cannabis Cultivar (Strain) Review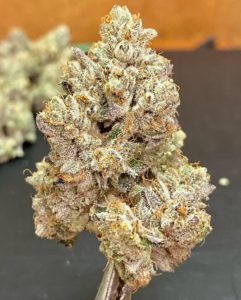 Stricter scoring still in effect
This is My first time trying the (elite OG X Gma's cookies) crème de le creme. Let's dive in! Macros in slideshow 4
Aroma: A
gassy OG Terps but with a sweet candy lemon side pairing with the pine & a light crisp floral terp. behind that is herbal cookie and vanilla cream, with a perfect ratio of the creamy barley hops veggie mycrene musk layer twisting it all together. Perfect ratios of the terps. Gassy creamy sweet and savory. Loud skunky and funky.
Appeal: A+
Extremely wide squat colas with OG stem structure & build but with a thick cookie nug density, that builds upwards into triangle formations that are extremely calyxed out but densely stacked. The nugs are Light greens to mid greens with yellow, beige, and amber tints from impressive trichome saturation, with Dark orange glowing pistils that burst out purple calyx tips & purple highlights in thick fuzzy patches. It has the 'frozen crisp' exotic outside finish with crisp snaps of the nug that reveal a proper dry but with a very greasy, super soft, moist, & sticky cure.
Burn A- / A+ = A Taste A
Very white inners, with mostly white salt&pepper outers & a huge motor oil terp rings that LEAK. Very pleasant, very smooth, but very gassy with sweet OG terps colliding with vanilla florals and cookie creamy herbals with some hints of the hops veggie musk, pine, herbals, and spices.
Effect A+ potency A+
This one is tko status, heavy euphoric head rush, with matching melting body buzz & couch lock, euphoric headband rush and eyes occasionally dropping lead to an off balanced euphoric sleepy stage. Heavy bake that leads to food and sleep. Easy 3 hour strong effects if you can stay awake for it.
Overall: A
One of the best strains I've ever had, amazing terp blend, exotic colas, Pleasant smoke, white based salt & pepper ash with the fattest of terp rings. Powerhouse effects and killer potency.
nothing is for sale ! Photography and reviews only!
#teamelitegenetics #calibudreviews #strainreview