Cultivar Review: MAC1 by Team Elite Genetics
Mac1 #capscut @teamelitegenetics
Lineage/Genetics: Alien Cookies f2 x 'Miracle 15' (Colombian Gold x Starfighter)
Original Breeder: Capulator
Grower: Team Elite Genetics
Terpene Profile: Unknown
Team Elite Genetics MAC1 Cannabis Cultivar (Strain) Review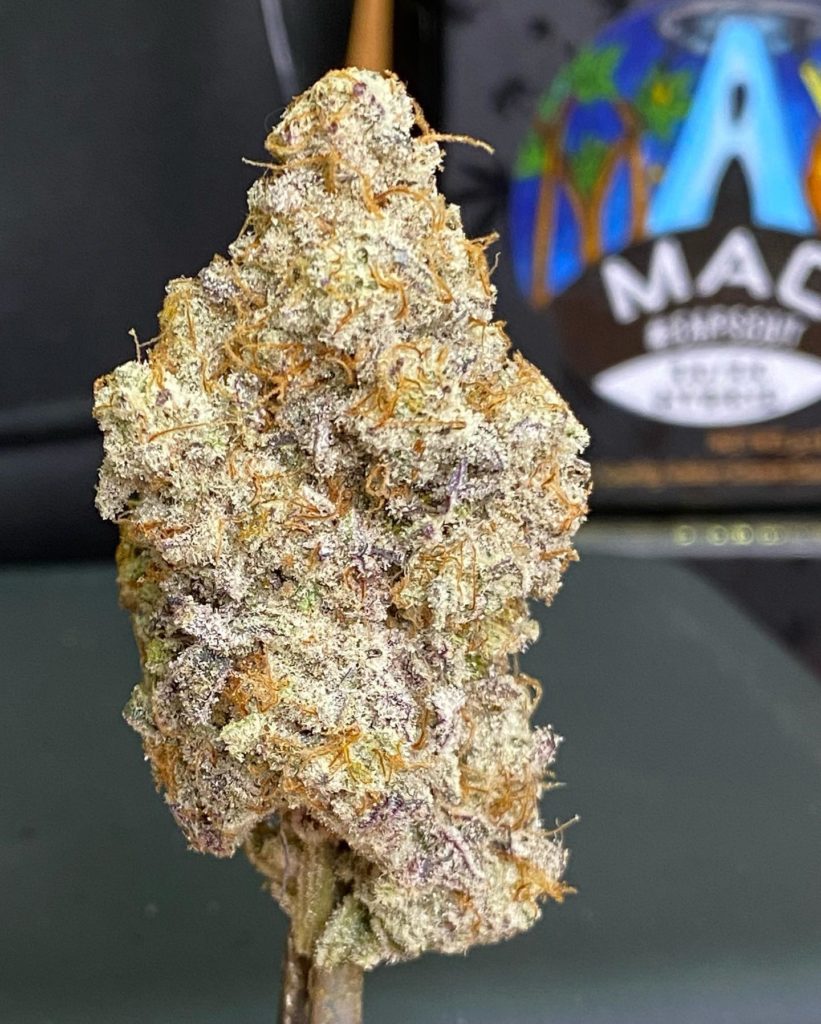 First time trying MAC1, which is "Caps Cut of Miracle Alien Cookies": (Alien Cookies F2 pheno7 X Miracle 15(star fighter X Colombian) bred by @capulator " – (TEG BOX) let's dive in!
Aroma: 94.5/100
It's a combination of creamy vanilla, sweet-tart cherry florals with a savory fritter pie crust, savory barley hops veggie soy creamy funk mixes herbal cookie, earthy musty musk & lemon gas with a pine diesel that hides a menthol. But it also has a heavy background cheesy skunky sativa citrus gas with a light hint of pungency, that blends with the vanilla cherry yogurt well.
Appeal: 96.75/100
perfect tall stretching chunky cola that builds up to a nice middle finger crowning. The cola is calyxed out with open structure while having thick cookied density and light leafyness. The nugs have light greens & beiges, with intermittent deep purple hues and light purple streaks. The Deep dark orange pistils of massive length are surrounded by mass clusters of Extremely long wavy trichomes with perfect heads. It has the exotic 'frozen crisp' cure with a nice dry but with moist sticky sappy inners.
Burn: A-/A+ Taste: 94.5/100
The ash was mostly all white, occasional outer paper flakes. The resin ring was huge, & grew into one of the biggest terp rings I've burned. The taste really brings out that sour dank cherry vanilla creamy yogurt, background barley hops veggie fritter pie crust & skunky cheesy citrus gas. Herbal cookie, creamy, sweet, gassy, lightly pungent.
Effect 95/100 potency 92/100
It's has a nice euphoric uplift, confident and breezy, with no anxiety, it's perfectly balanced with a toasty deep relaxing stoneage in the body & mind. Beautiful bake while remaining awake, perfect midday strain! 3hr nice & toasty effects w/ prime smoke-ability, you can smoke big cones with ease while continuously increasing effects.
Overall 95.3/100
STRAIGHT HEAT. It's got loud popping terps, insane bag appeal, a clean tasty burn that DRIPS TERPS, & a long lasting balanced entourage bake. Top notch !
NFSOT! Reviews & Photography for 21+ medical MJ patients only!
#teamelitegenetics #calibudreviews #mac1 #strainreview #cannabisphotography #nugshot
Advertisements