Strain Review: MAC 1 by Arbuckle Farms
MAC 1 Capulator's Cut
.
.
Arbuckle Farms
.
.
Lineage/Genetics: Alien Cookies f2 x 'Miracle 15' (Colombian Gold x Starfighter)
Original Breeder: Capulator
Grower: Arbuckle Farms
Terpene Profile: Unknown
Arbuckle Farms MAC 1 Strain Review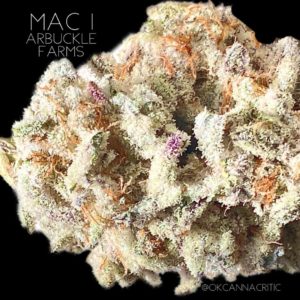 If you're lucky you have got ahold of the super popular and notoriously elusive @arbucklefarms MAC1. When it graces the few lucky top shelves it does, it is infamous for selling out incredibly fast.
I will be the first to admit, I am a little late in jumping on the MAC1 bandwagon. The strain itself is simply not one of my favorite flavor profiles, but this specific grow is so exquisite that it enhances the terpenes and is just too good to pass up by any flower aficionado.
The bag appeal is simply stunning with its thick coat of heavy frost, appearing almost white and celestial. The nose is distinct and unlike other MAC1 that I have tried, the cookie profile is not dominating. It's gassy, sweet, mild yet overpowering all at once. With a taste to match, the Capulator Cut shines above most others.
Effects are mellow at first then trancing almost. If your In the right place at the right time and come across this magnificent grow, do not pass it up! The guys over at the Arbuckle Farm continue to wow me with each run, wonderful work! The time, love and attention put into this gem show up tremendously.
.
.
#strainhunter #privatereserve #topshelf #exuisitecannabis #okcannabisculture #cannabis #okcannabiscommunity #highsociety #theoklahomachronic #okcannacritic #strainreviews #cannalifer #reviewpreviews #publishedreviews #originalreviews #notyouraveragereviews #staylitoklahoma #smokebetter
Advertisements