Strain Review: Lava Cake from Nevada Wellness Center
Lava Cake is Today's Strain
#LavaCake ✨✨🌋🍰✨✨😋😋
Lineage/Genetics: Grape Pie x Thin Mint GSC
Original Breeder: Cannarado Genetics
Grower: Greenway Medical
Dispensary: Nevada Wellness Center
Lava Cake Strain Review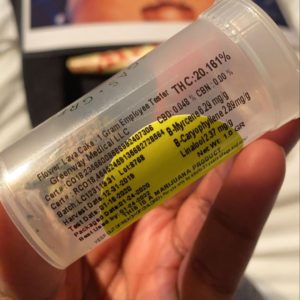 First off, when I first got this shit, I popped the top open with full intentions of rolling it up and smoking but as soon as the smell got to my nose I was like "nah." Bruh the shit REALLY smells like cake. It smelled so good I felt like I had to save it … if that even makes sense 😂 but when I did decide to smoke it, to my surprise it actually tasted the way it smelled.
Hands down this was the most delicious strain I've ever smoked. The high was cool too. It was a lot lower in potency than what I'm used to but I was high and I was chillin, the flavor def makes up for THC content lol well worth it, it was #DELICIOUS
This weed was grown by #GreenwayMedical in Las Vegas, Nevada. I got this from @nevadawellnesscenter
#weed #cannabis #smoke #toke #weedtalk #strains #strainreview #strain #lavacakeweed #lava #cake #review #blackgirl #blog #blackbloggers #blackgirlmagic #purple #haze #torihazee #lasvegas #bayarea #thebay #girlswhosmoke #smoking #smoker #weedsmoke #weedadvocate
Meet Tori Hazee! A blogger who reviews different types of weed strains and edibles as well as wraps, bongs, and papers.