Strain Review: Gelato Glue by Prime Cannabis
#StrainReview !! This is the Gelato Glue strain by Prime Cannabis aka Gorilla Glue Gelato.
Lineage/Genetics: Gorilla Glue #4 x Gelato
Original Breeder: Barney's Farm
Grower: Prime Cannabis
Dispensary: Nevada Wellness Center
Gelato Glue Strain Review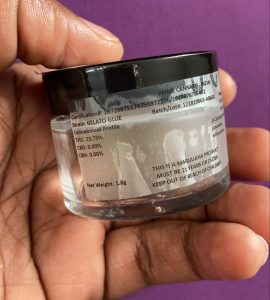 #GelatoGlue by @ask4prime ! It's a cross between #gorillaglue4 and #gelato 🤩💨
This bud is dense and has a citrusy pine scent 🍊🌲
It's high in #bcaryophyllene (which helps with inflammation and brain function) and is 23% #thc 🍃🍃
It was good, would def reccomend you try it.
Issa nice wake and bake ☀️🌬✨
I got this from @nevadawellnesscenter 🏥
#cannabis #review #weed #Vegas #bud #strains #gorrilla #glue #gelato #smoke #smoking #sesh #blunt #stoner #stoney #weedtalk #blog #blackgirlswhoblog #blogger #blogpost #postoftheday #pod #weedphotography #weedphotos #torihazee
Meet Tori Hazee! A blogger who reviews different types of weed strains and edibles as well as wraps, bongs, and papers.
Advertisements