Strain Review: Caps Cut MAC by L.A. Made
Strain: MAC
Who: @capulator @l.a.made
Lineage: Alien Cookies x (Colombian x Starfighter)
Indica or Sativa: 50/50 Hybrid
Original Breeder: Capulator
Grower: L.A. Made
Dispensary: Peace of Green
Caps Cut MAC Strain Review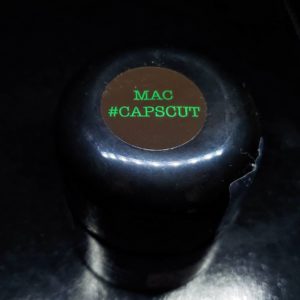 Aroma: Cupcake Batter, Christmas.
Taste: Cracked Herb Sprig, Pistachio Ice Cream, OG Kush (God Tier)
Medicinal Effect: Strong & Evenly spread between head and body. Stoney & Relaxing all around.
Structure: A kaleidoscope of green, orange, and a dash of purple hues form the tight, sticky buds.
Overall: This is the #weed that GOD himself would smoke. A sweet, bakery aroma slaps you in the nose and opens your lips right when you open the jar–letting you know that you're in for something special. The flavor is unreal. I've never smoked a strain/batch that conjures and simulates texture–like I'm actually chewing on the stem of this magnificent plant. It's a familiar, and most welcoming, Sweet, nutty, piney, OG that really showcases where these flavors can actually be steered if in the hands of a master grower. This is elite, God Tier #herb
I feel #blessed to be even smoking it.
The Fire Scale: 10/10 flame-annihilators
🔥🔥🔥🔥🔥🔥🔥🔥🔥🔥
#cannabis #420 #losangeles #lacannabis #weedporn #cannaseur #nugshot #fire #thefirescale #og #kush #weedstagram420 #weed #strainreview #wesmokedifferent #indica #sativa #hybrid #capscut #mac #miraclealiencookies