Strain Review: Honey Flower by A Golden State
Strain: Honey Flower
Who: @agoldenstate
Lineage/Genetics: Unknown
Indica or Sativa: Sativa dominant Hybrid
Original Breeder: A Golden State
Grower: A Golden State
Dispensary: People's OC
Honey Flower Strain Review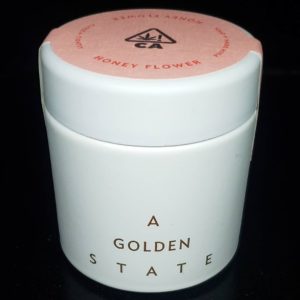 Stats: 27.77% THC – .04% CBD
34.26% Total Cannabinoids
Structure: Dense, crunchy, thicc nugs. Dark purple crystals glitter against the dark green leaves. Beautiful.
Aroma: Earth, Sweet Cake, Subtle hint of Lime.
Palate: Cracked Black Pepper, Earth, Sweet Cream.
Medicinal Effect: A pick me up in the morning. Focused, head to arms high. Great for ADD and study sessions.
Overall: Gorgeous bud that looks like smashed dark purple opal in the sunlight. Strong, targeted medicinal effect. Yet, this flavor profile is just not doing it for me. It's too dirty and spicy for my taste, and the sweet notes are extremely subtle. I am really excited to try out another strain from @agoldenstate that matches my flavor preferences, because I have a good feeling this strain is in very good company in its growing facility. I do question why it is called Honey Flower. Usually, I expect a correlation between the name of the strain and the flavor profile it suggests. While I would like to give this an easy 9/10, instead…
The Fire Scale: 8/10 flame-walkers
🔥🔥🔥🔥🔥🔥🔥🔥
#cannabis #420 #losangeles #lacannabis #weedporn #cannaseur #nugshot #fire #thefirescale #og #kush #weedstagram420 #weed #strainreview #wesmokedifferent #indica #sativa #hybrid
Advertisements