Strain Review: Apple Fritter from Lumpy's Flowers
Strain: Apple Fritter
Who: @lumpstatus
Lineage/Genetics: Sour Apple x Animal Cookies (Someone correct me if this is wrong)
Indica or Sativa: Indica dominant hybrid
Original Breeder: Lumpy's Flowers
Grower: Lumpy's Flowers
Dispensary: Los Angeles Farmers
Apple Fritter Strain Review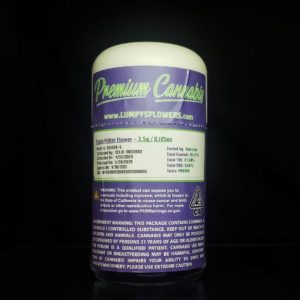 Stats: 23.68% THC – .06% CBD
28.23% Total Cannabinoids
Nose: Sweet, Sour and Heavily Ripened Fruit Bowl, Skunk, Gas.
Palate: Inhale – Tart Boysenberry & Apple
Exhale – Dank Purple Kush, Lingering Sour Fruit.
Medicinal Effect: Relaxed, Easy-Going. No couch lock, but not super focused. Definitely feels like a 50/50 hybrid leaning towards the relaxed indica/hazy sativa feeling.
Structure: Compact, tight nugs that look like beautiful flowers when broken up. Bright purple on the inside against the green reminds me of the same hues used in the iconic Joker costume.
Overall: Smooth, smooth, baby. This is one of the easiest strains to smoke; taking a large rip doesn't irritate my throat whatsoever. This is the sort of strain that I welcome as a mid-afternoon smoke that won't drag me down, but it doesn't necessarily charge me up either. I kind of just want to jump on my #PS4 and play some #2k20 or #borderlands3 – Love it or hate it, this strain clearly falls into the "exotic" category. Why? Because to an untrained palate and nose this could get passed off as not any better than the newest shit drop from @cookiesenterprises – This is high-quality bud, folks. Get yourself some of the OG Apple Fritter by Lumpy's. There's a lot of copycats on the market out there, but there's a reason why this cut has got the hype… it delivers.
The Fire Scale: 9/10 flame-rollas
🔥🔥🔥🔥🔥🔥🔥🔥🔥
#cannabis #420 #losangeles #lacannabis #weedporn #cannaseur #nugshot #fire #thefirescale #og #kush #weedstagram420 #weed #strainreview #wesmokedifferent #indica #sativa #hybrid #applefritter #lumpys #flower #lumpysflowers
Advertisements