Strain Review: Now and Laters by Ember Valley
Strain: Now and Laters
Who: @embervalleyofficial
Lineage/Genetics: Candyland x Blue Power
Indica or Sativa: Sativa dominant hybrid
Original Breeder: Ember Valley
Grower: Ember Valley
Dispensary: People's OC
Now and Laters Strain Review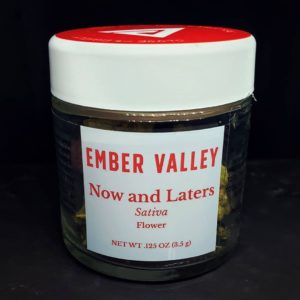 Stats: 26.01% THC – .05 % CBD
Aroma: Black Licorice, Artificial Candy, Key Lime, Bile (yup, you read that right)
Taste: Sour Fruit, Spicy Earth, Floral Notes, Lavender, Black Licorice.
Medicinal Effect: Floaty, Hazy, Spacey. Arms through shoulders are effected. Great for people with a loss of appetite.
Overall: Initially, this smells like a more developed Jack Herer, which is strange because looking through the lineage fam I don't see it anywhere. There was a mystery strain added in somewhere during the Platinum GSC which eventually crossed with GDP to create Candyland, but I feel like I'm just talking outta my ass here. All I'm saying is I'm getting the same vibes. This is not a Sativa that will make you want to clean the house. Instead, I'm imagine it would act a catalyst for laughter during an classic animated episode. I could really go for an episode of The Jetsons right now. I think this strain has a time and place, maybe Saturday & Sunday mornings, but not when you expect to get any work done.
The Fire Scale: 7/10 flamey-poodles
🔥🔥🔥🔥🔥🔥🔥
#cannabis #420 #losangeles #lacannabis #weedporn #cannaseur #nugshot #fire #thefirescale #og #kush #weedstagram420 #weed #strainreview #wesmokedifferent #indica #sativa #hybrid #nowandlaters #strainreviewer