Strain review: Cereal Milk by Powerzzzup Genetics
Strain: Cereal Milk
Who: @cookiesenterprises @powerzzzup
Lineage/Genetics: Y-Life (aka The Y) x Snowman
Original Breeder: Cookie Fam Genetics (Powerzzzup Genetics)
Grower: Cookies
Dispensary: Cookies Melrose
Cereal Milk Strain Review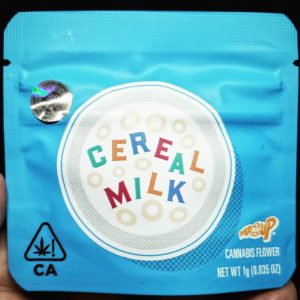 Stats: 29.17% THC – 2% CBD
Aroma: Berries that have been left out in the sun, Funk, Skunk, Cheese.
Taste: Sour Milk, Oat Grain, Soggy Cap'n Crunch Berries.
Feeling: Crushing head high, spacey, unfocused.
Overall: Upon opening the bag I got all the same @cookiesenterprises aromas that I've found from their other strains (with the exception of LPC75) with a slight edge to the fruitier notes upfront on the nose. This particular batch was cured very well and was sticky as can be. The picture shows off the dark purple and green bud as they swirl together underneath a crusty lining of glittery trichromes. Great effect though, this strain did hit pretty hard. I wouldn't buy it again, but I did enjoy trying it. For some people, this may be your favorite strain of all time, that's fine. I just think that they have some very clever marketing, branding, and sometimes it can be hard to separate that package from the actual product inside the jar/bag. Is that part of what you're paying for? Yes, but I'm just finding out a lot more recently that some brands are able to hide their mids behind some buzzworthy names and packaging.
The Fire Scale: 7/10 flame-a-doodles
🔥🔥🔥🔥🔥🔥🔥
#cannabis #420 #losangeles #lacannabis #weedporn #cannaseur #nugshot #fire #thefirescale #og #kush #weedstagram420 #weed #strainreview #wesmokedifferent #indica #sativa #hybrid #cerealmilk #cookies