Strain Review: Alien Mints by Alien Labs
Strain: Alien Mints
Who: @alienlabs
Lineage: Animal Mints x Animal Mints
Indica or Sativa: Indica dominant Hybrid
Original Breeder: Alien Labs
Grower: Alien Labs
Dispensary: The Farmacy Westwood
Alien Mints Strain Review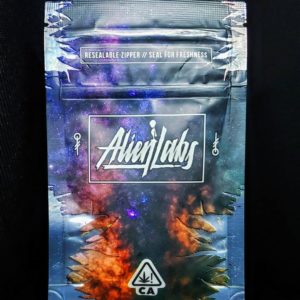 Stats: 26.16% THC – 0% CBD
Aroma: Wintergreen, Paprika, Sweet Cream, Douglas Fir.
Flavor: Cold Menthol on the inhale followed by Spice, Lil' Kush.
Feeling: Like a muscle relaxer, strong couch lock.
Overall: Alien Labs delivers another very potent strain, but it lacks a wow factor. I found the flavor a bit muddy and reminded me of the earth in which the plant is grown in. Still, everything smells, looks, and feels familiar. It's just a little boring at this point, I expected a bit more. Personally, this is my least favorite of their strains, but this is still top shelf indoor flower. However, I do not think this particular strain is worth the top shelf price tag that it holds. You'll be much better off selecting one of their other fantastic strains.
The Fire Scale: 7/10 flame-koolers
🔥🔥🔥🔥🔥🔥🔥
#cannabis #420 #losangeles #lacannabis #weedporn #cannaseur #nugshot #fire #thefirescale #og #kush #weedstagram420 #weed #strainreview #wesmokedifferent #indica #sativa #hybrid #2069shit #craftcannabis