Strain Review: Fuelato by Connected Cannabis Co.
Strain: Fuelato
Who: @connected.california
Lineage/Genetics: SFV OG x Gelato #41
Indica or Sativa: Indica dominant hybrid
Original Breeder: Connected Cannabis Co.
Grower: Connected Cannabis Co.
Dispensary: Connected Cannabis Cherry
Fuelato Strain Review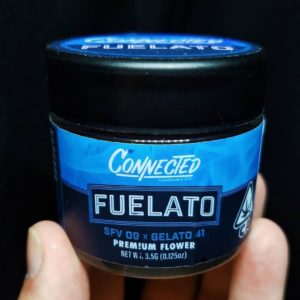 Stats: 23.77% THC – N/A% a-and
Aroma: Gas, Pine, Kush.
Flavor: 👆 Same, with an added touch of sweetness lingering at the end.
Feeling: Mellow, Relaxed, a Night Cap.
Overall: Wow! What an amazing blend of SFV OG x Gelato #41 – both strains come through clear, with a slight edge to the SFV OG as these gassy fumes and taste are at the forefront of the nose and the palate. Yet, that Gelato is unmistakenly there on the back end of the exhale. Now this would get a near perfect score… BUT. These fools at @connected_santaana sold me this eight which was packaged 10 MONTHS AGO. I truly cannot believe that this was sitting on the shelf for that long, but I can see it once I opened this jar. It was sooo DRY. I took a Boveda pack, threw it in for a week and that really brought back some life into this strain so I could do a proper review. So this strain could have been an easy 9…. but for this batch.
The Fire Scale: 8/10 flame-skuhdoodles
🔥🔥🔥🔥🔥🔥🔥🔥
#cannabis #420 #losangeles #lacannabis #weedporn #cannaseur #nugshot #fire #thefirescale #og #kush #weedstagram420 #weed #strainreview #wesmokedifferent #indica #sativa #hybrid
Advertisements