Strain Review: Quest by SOURCE Cannabis
Strain: Quest
Who: @source_cannabis
Lineage/Genetics: Chem Sister x Sour Dubb x Chocolate Diesel
Indica or Sativa: Sativa dominant Hybrid
Original Breeder: SOURCE Cannabis
Grower: SOURCE Cannabis
Dispensary: The Farmacy Westwood
Quest Strain Review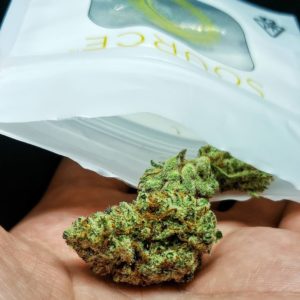 Stats: 30.07% THC – .05% CBD – Sativa
Aroma: Sunflower Seeds, Orange Peel, Jasmine, Rhubarb Root.
Flavor: Spicy, Nutty, Pine & Kush.
Feeling: Laser Focus, Alert, Perfect for Wake & Bake sessions or feeling groggy.
Overall: These ❄ frostyyy nugs produced some overwhelming powerful terpenes when opening the bag. This is exactly the kind of feeling that I want out of a sativa. Super productive, a little bit of body sedation, and keeps my mind free and clear to work at a rapid pace. There are some hazy notes in the taste that I couldn't pick out, but I'd be interested to hear how others describe their palatable impressions. If this strain had a little more of a focused flavor it would step it up an extra point, but for now.
The Fire Scale: 8/10 flame-shootas
🔥🔥🔥🔥🔥🔥🔥🔥
#cannabis #420 #losangeles #lacannabis #weedporn #cannaseur #nugshot #fire #thefirescale #og #kush #weedstagram420 #weed #strainreview #wesmokedifferent #sativa #indica #hybrid