Strain Review: Apples and Bananas by Weed… be rude not to
'Apples & Bananas'/ 🍎🍌
Lineage/Genetics: [(Platinum Cookies x Grandaddy Purple) x Blue Power] x Gelatti
Original Breeder: Compound Genetics x Cookies Fam Genetics
Grower: Weed… be rude not to
Terpene Profile: Unknown
Apples and Bananas Cannabis Cultivar (Strain) Review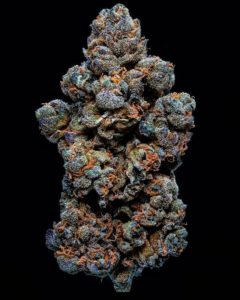 Good afternoon and a very happy Friday-Highday to you fine people out there! I hope you all had a great week and are looking forward to an even greater weekend 🙌🏻 Today we have a strain that has gained quite the popularity in the last year or so – 'Apples & Bananas'. This evenly balanced hybrid, originally bred by the collaboration of West Coast legends Compound Genetics and Cookies has a delightful fruity aroma and a pleasantly uplifting high.
Upon opening the bag I was greeted by a slightly skunky and Earthy aroma with a fairly strong Lemon-heavy citrus presence as well as some noticeable hints of gas. After rolling up a joint I took a few dry pulls to discover that the flavour I was getting had a good amount of complexity to it, and not too dissimilar to the general aroma. On the dry pull I noticed that the citrus notes were expressing themselves more so on the orange side of the spectrum opposed to the lemon 🍋
The gas notes were still present and noticeable, but not overpowering the lighter citrus ones. This was backed up by an underlying floral character with some hints of tropical fruits – mostly Guava. After revelling in the complexity of the aroma and flavour from the dry pull I went eagerly about rolling up a joint to have a true sample of this flower… After lighting up and taking a few tokes I initially felt as though the overall flavour was virtually identical to that of the one I tasted on the dry pull.
About a quarter of the way into the joint I began to pick up on some more Earthy-leaning notes coming into the mix. The floral and tropical notes began to intensify in complexity and loudness and gave way to notes of kiwi and banana which blended together nicely. As the joint burned on I started noticing a slight hint of sour apple and a dank, overripe banana funk on the base. All of these notes worked together beautifully to create a complex and unique flavour which shone with character! 🤌🏻
The effects of this flower started kicking in fairly quickly into smoking it – at first I felt a bit of a mild head rush with some hazy effects to it. This brought with it a wave of euphoria that lasted a good while before I gradually felt very relaxed and calm. The relaxing effects weren't overly strong which I enjoyed as this of course makes the strain one that can be enjoyed throughout the day with no fear of getting couch-locked!
To sum it up – I found that this strain offered an experience that wasn't just one that is preferable to me in ways of effects, but also gave me something new and interesting. The complexity to the terps on this one is truly great and makes it quite clear to me why this strain is so popular! It's my first time trying anything by @weed_be_rude_not_to and I must say I'm impressed! If you get the chance to try any of their flower I'd suggest you take it 👏🏻🔥
🧬 @cookiessf 🌱 @weed_be_rude_not_to 🔌 @hoodpackz_official #applesandbananas #weedberudenotto #thc #uktopshelf #dankshots #420vibes #nugshots #macrophotography #cannabis #weed #cannabiscommunity #trichomes #420 #cannabisculture #weedstagram420 #cannabisphotography #weedpics #weedporn #premiumflower #nugshot #macroweed #nugmag #whiteashgang #weedworldmagazine #hightimesmagazine #skunkmagazine #leafly #weedmaps #macrocannabisphotography #thebudstudi0
Advertisements