19th Emerald Cup Awards highlighted the best in CA cannabis at The Craneway Pavilion
The 19th annual Emerald Cup held its Awards Show at the Craneway Pavilion in Richmond, CA this past weekend. Right next to the Rosie the Riveter museum, the Emerald Cup Awards Show also highlighted a can-do attitude in the face of adversity. It was a celebration so epic that it seemed like time stopped for the duration. I was vibin' and so was every single person that I talked with. Even lines like "they owe me money" were said with a slightly different tone than usual.
The Pavilion was set up with the entrance on one end and the stage on the far end. Right when you walk in, you were greeted with displays of all the entrants into this years' Emerald Cup.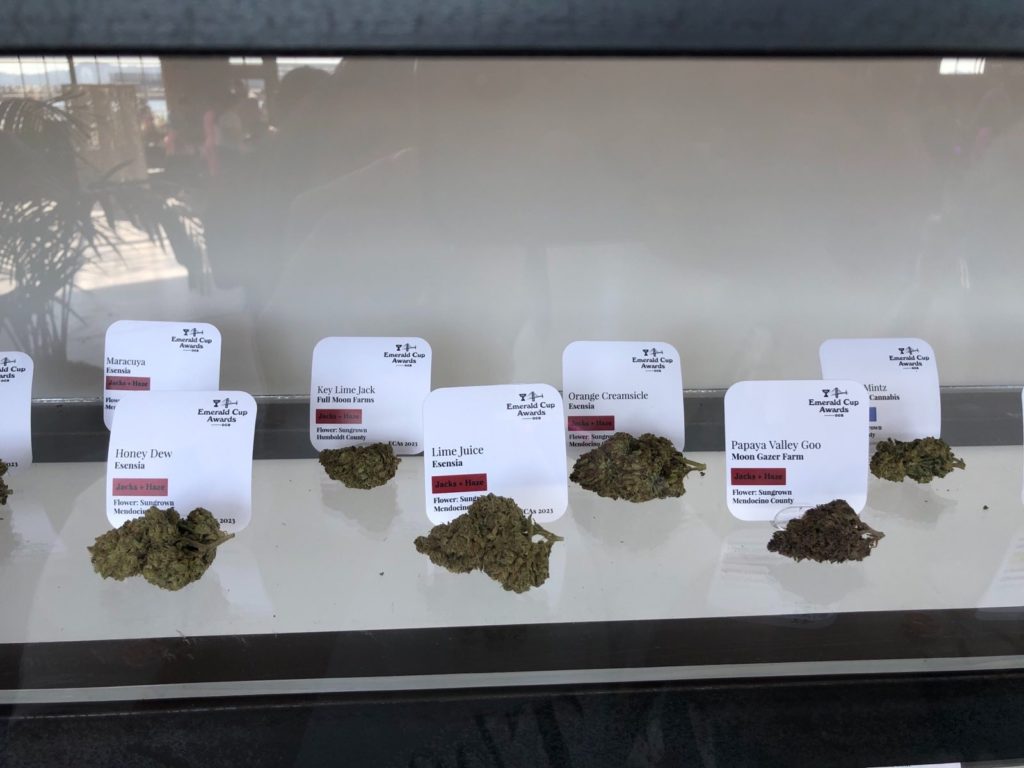 All along the inside and outside perimeter facing the water, booths featuring supporting brands were set up. In front of the dual purpose concert and awards stage, hundreds of seats were laid out under fourteen flags bearing an embroidered cannabis leaf. Further back, tables were set up for those that preferred to stand. Sharing is caring and everyone was highlighting their best, not just the entrants!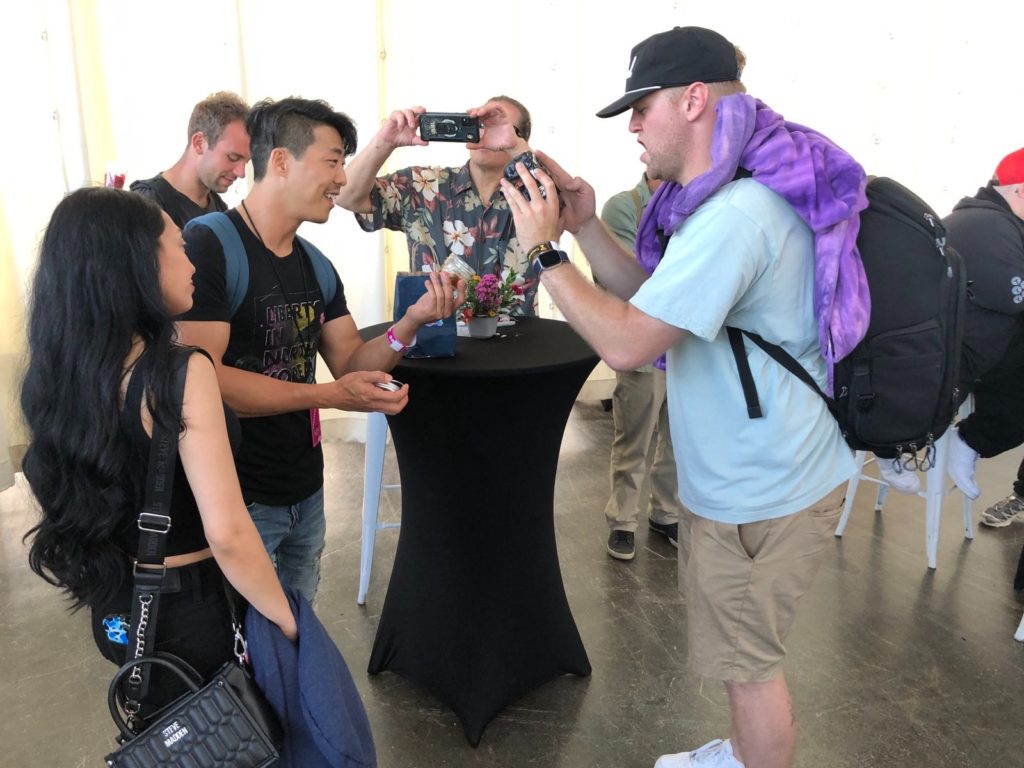 There were over a dozen musical performances throughout the night of many different genres – all known and shown to pair well with cannabis.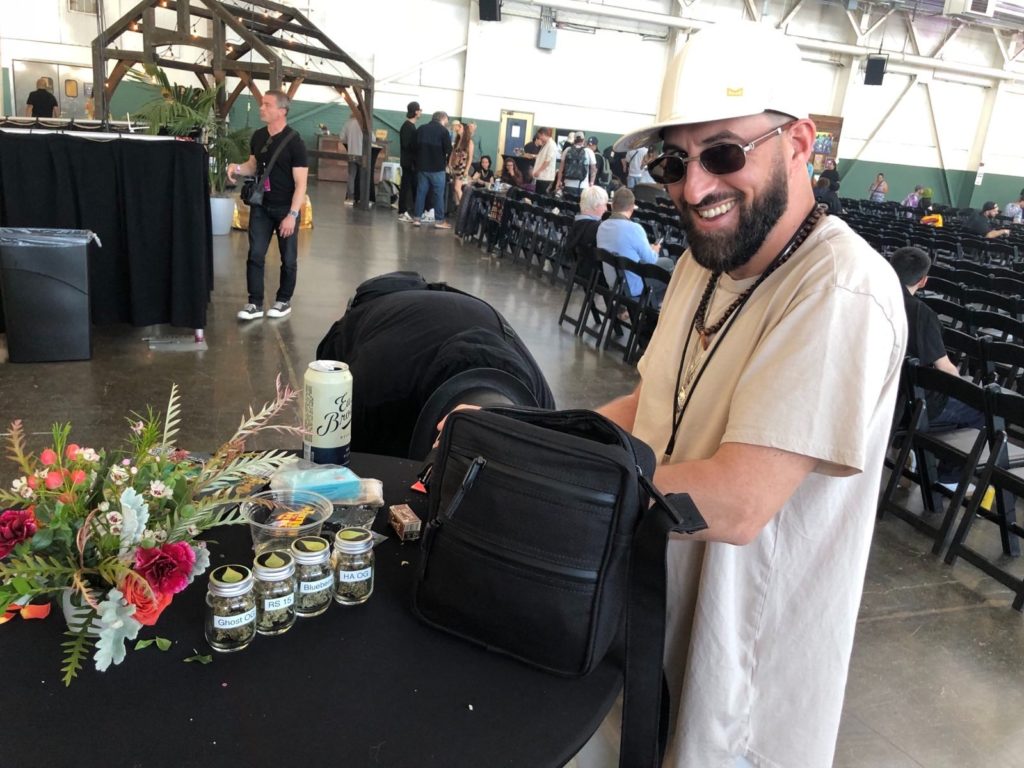 Here's a quick play by play of how 420 (part 1) went down.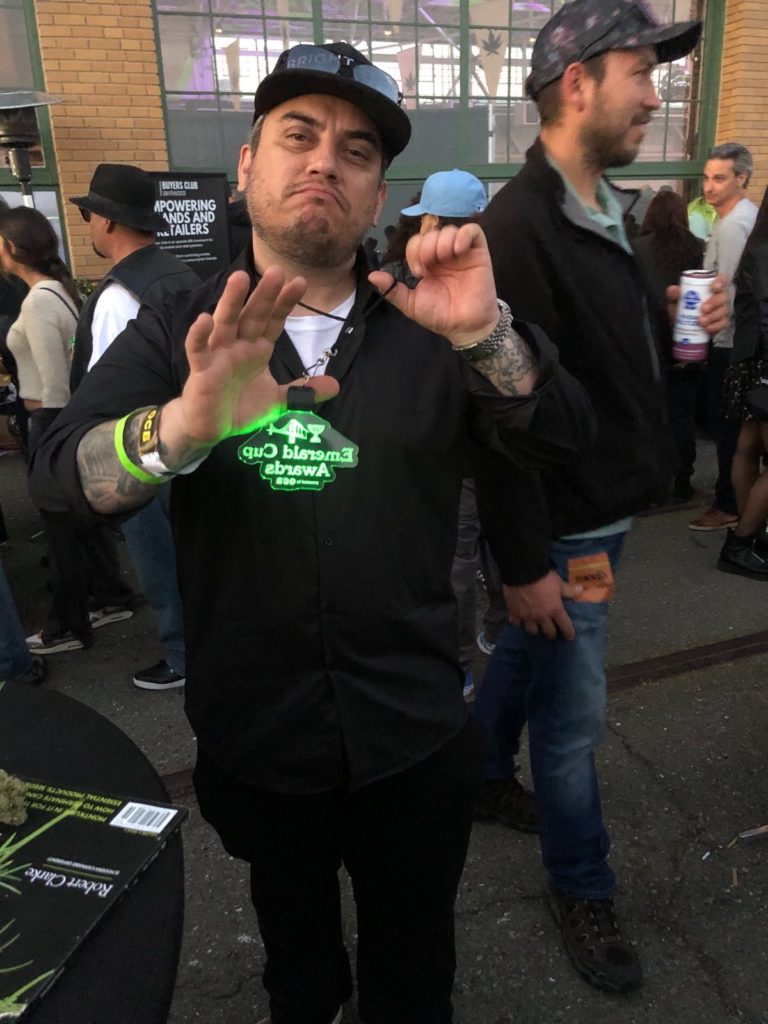 At 4PM, the doors opened. The Emerald Cup had a shiny new LED sign by @brightstarmatt that I saw get put on display.
At 4:20PM, Madame Cannoli and two of Frenchy Cannoli's apprentices – Cherry Blossom Belle and Lena of Cannam Garden – fired up the hookah with a mix of Beach Day and Jelly Rancher. The next hookah bowl was full of Orange Turbo and something else that got me so ripped I can't remember anymore.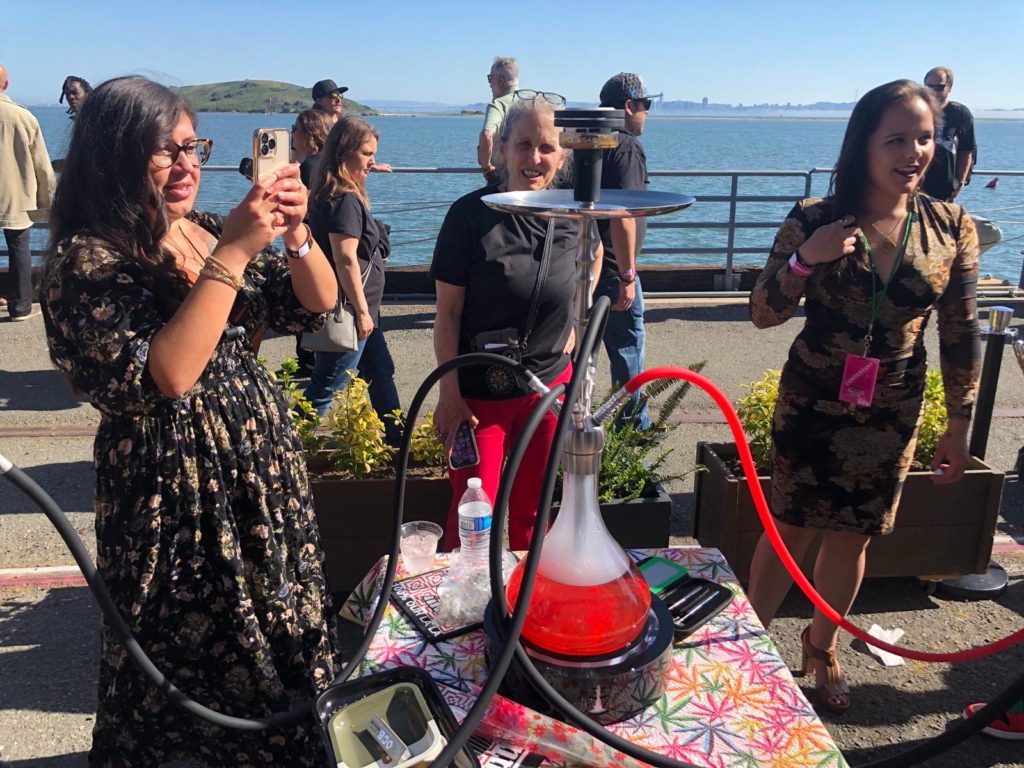 The smells. Oh the smells. The awards show was a blur with so much clapping, so much inspiration, and quite the smoke/vapor cloud hanging overhead. I stepped outside to a table where I could still see the stage for the rest of the awards.
Some of my fave awards from the Emerald Cup Awards Show 2023
"Willie Nelson" Lifetime Achievement Award
Mila Jansen
Visionary Award
Amber E. Senter
Social Justice Award
Weldon Angelos
Trailblazer Award
Alex Aquino
Breeder's Hall of Fame
Soma
First Place Ice Water Hash
Heritage Hash – White Thorn Rose
First Place Hydrocarbon
Jetty Extracts – Super Lemon Haze
First Place Rosin
FullyMelted x Alien Labs – Zkittlez
First Place Indoor Flower
Fig Farms – Blue Face
First Place Sungrown Flower
Rebel Grown – Double OG Chem #14
First Place Mixed Light Flower
Ridgeline Farms – LANTZ
First Place Sungrown Personal Use Flower
Mountain Cultured – Terp Blendz 241
First Place Sungrown Third Party Certified Flower
Sol Spirit Farm – Element
First Place Sungrown Greenhouse Flower
Chameleon Craft – Bubble Bath
First Place Best In Show Flower
Fig Farms – Blue Face
Breeder's Cup Indoor
Fig Farms – Blue Face
Breeder's Cup Outdoor
Rebel Grown – Double OG Chem
Breeder's Cup Mixed Light
Ridgeline Farms – Lantz
For the full list, go to https://theemeraldcup.com/2023-award-winners
Indoor flower won Best in Show at Emerald Cup Awards Show 2023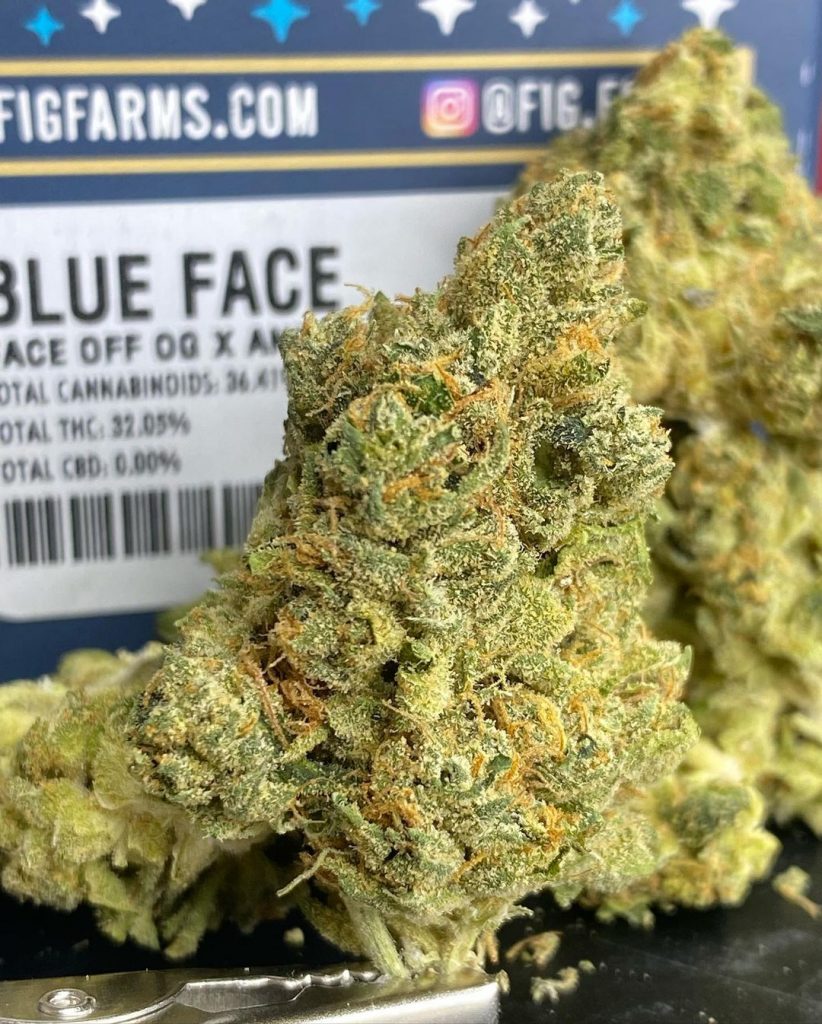 This is the first time in the Emerald Cup's 19 year history that indoor flower has won Best in Show. This is a sure sign of changing preferences and demographics among the judges, contestants, and some might even argue it is a lagging indicator of consumer preferences. It's a worthy discussion, but for now let's stick to celebrating. The metrc numbers don't lie (when it comes to off the shelf sales at least) and people sing Fig Farms' praises until they're blue in the face. Congrats to Mike and the rest of the Fig Farms team!
1st Place Sungrown Flower goes to Rebel Grown
Rebel Grown winning first place Sungrown with Double OG Chem #15 and placing with another pheno and also winning a third Breeders' Cup. Every year, history is made. Congratulations to Dan and the rest of the Rebel Grown fam.
1st Place Mixed Light Flower goes to Lantz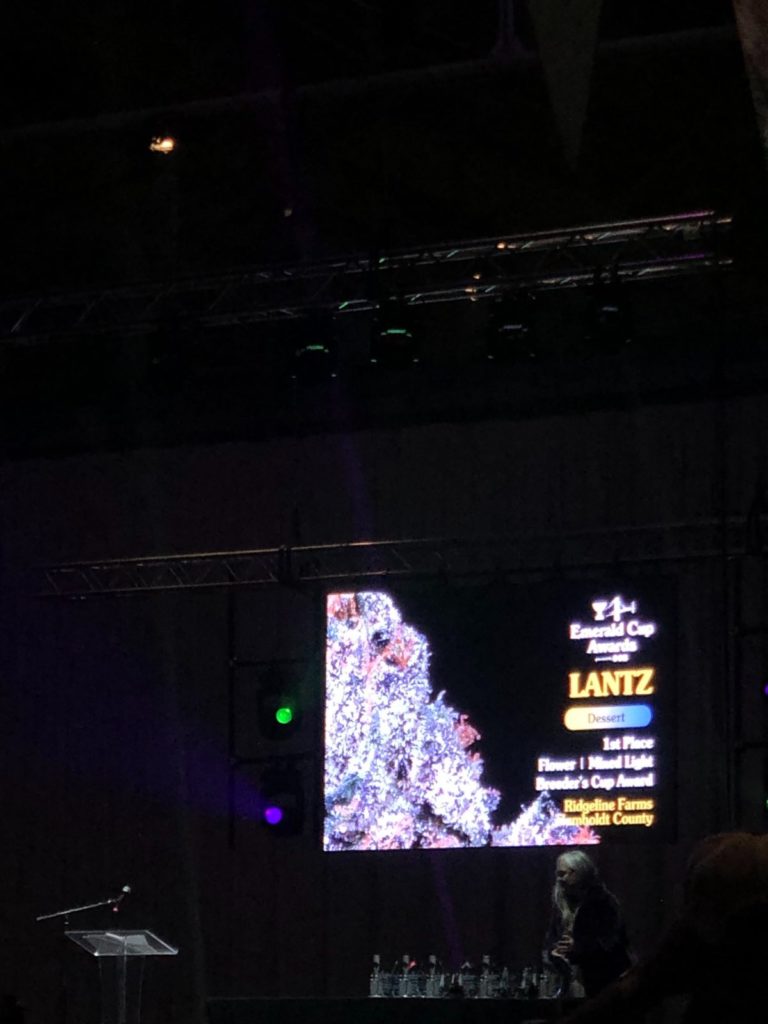 Ridgeline Farms Lantz won. I remember at the beginning of the event talking with the Redwood Roots fam and hearing the thought – the hope – that Ridgeline winning with Lantz would be historical. Why? Because Lantz's parents are Green Lantern and Ridgeline Runtz – two cultivars by Ridgeline that had previously won 1st place at previous Emerald Cups. Congrats to Jason and Ridgeline Farm.
All three of these growers/breeders deserve all the flowers they're receiving for their flower. I heard multiple people call the Emerald Cup the Oscars of cannabis or the Grammy's of cannabis. It's a good analogy, considering how cali-centric Emerald Cup is.
Making predictions on who is going to win is always a crapshoot. Sure, everybody has a stake in who they want to win –  A favorite brand, a favorite cultivar, maybe even a favorite growing method. The stakes are high, winners are celebrated and could benefit from the exposure. Despite that, there was no knife's edge aire of competition; rather, the atmosphere was one of pure camaraderie. Congratulations to every brand and person that placed and a heartfelt thank you to all who entered because that's what keeps the cup going.
What awards does The Highest Critic particularly look at?
Every single award is impressive and every winner should hit THC up for some free coverage but there are a few awards that are arguably more prestigious than the rest. Obvious ones like the aforementioned Best in Show and Breeders Cups, but for me as a tuff puffer, the entire top 20 list of all the flower and hash categories are of particular interest – and the history of the Emerald Cup means Sungrown is the most competitive category hands down. It's important to remember that the only part of the Emerald Cup that is still the same as before – as in that it's open to EVERYBODY to enter – is the Personal use category. I try to keep my eye on as many developments in the space as possible, the thing that I logically would keep my eye on would be the Personal Use section.
Personal Use Winners deserve your attention
Byrd Extracts won for Personal Use Solventless. If you don't know who Byrd is, check out HashWriter's writeup on the Big Tech Hashashin. He runs hash classes and to say he's well known in the hash space is an understatement. He won with his Purple Magic.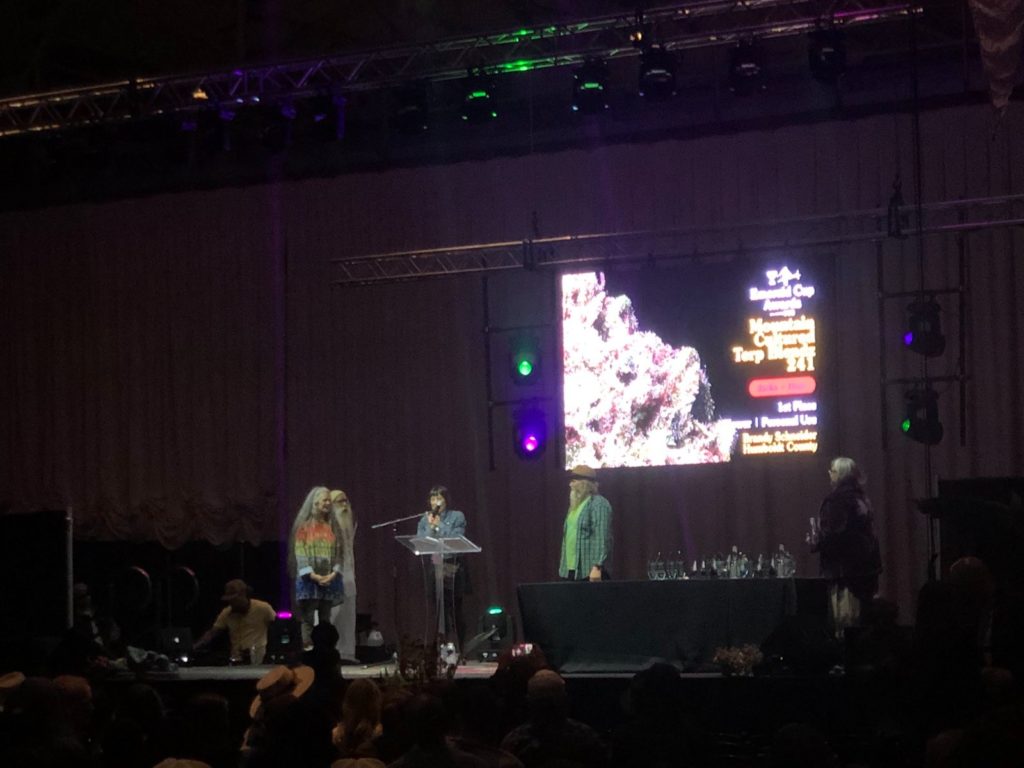 For sungrown flower, the winner was a brand called Mountain Cultured and their winning cultivar was named Terp Blendz 241. An unnamed cultivar won at Emerald Cup? Yeah. I caught up with the breeder, Farmer Nate (a fellow Ganjier) who gave me some more info on the lineage:
"241 is an AMLime pheno that is part of our terp Blendz project we did with a select male from our AMLime line. We are running the progeny from the BX now. Super excited to see some amazing expressions coming from this project! Off to a great start 💚."
He even gave me some tasting notes:
"We have not named the 241 yet. It has some really unique characteristics: a lotta garlic onion, BO, strong lime, and citrus fuel. It's a really complex, interesting flower."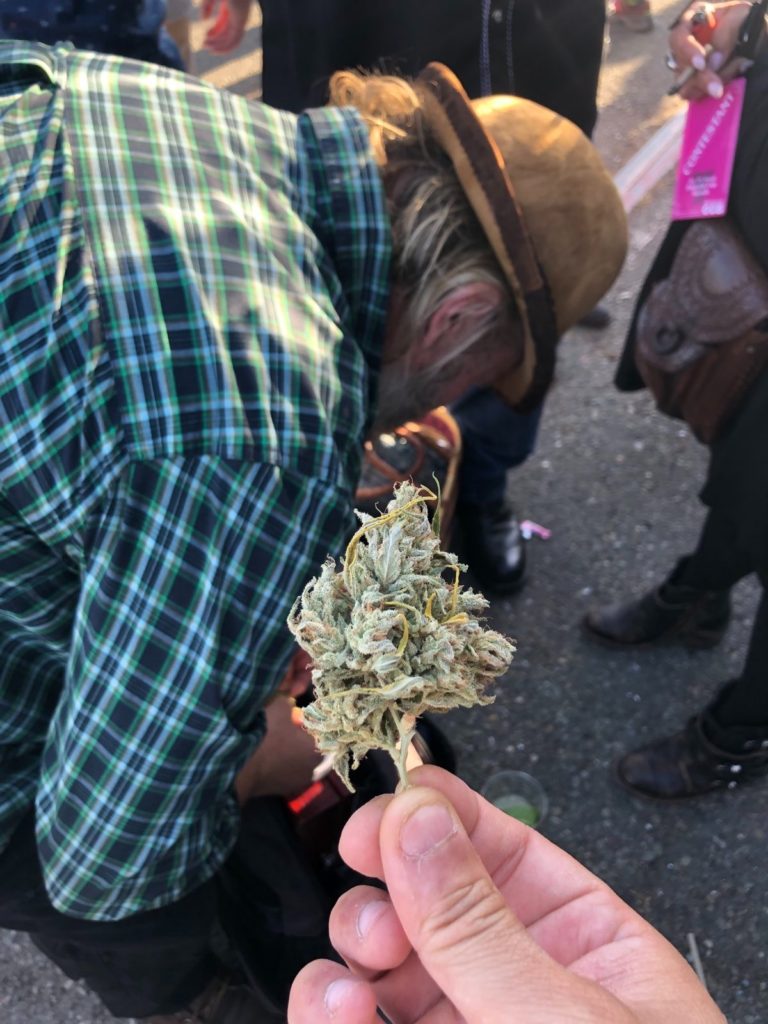 Third Party Certified deserves your attention, too
Sun and Earth, Dragonfly Earth Medicine, OCAL, etc. If a farm is doing the work to show you that you shouldn't panic – you should pay attention. First place Sungrown Third Party Certified went to Trinity County's Sol Spirit Farm for their Element cultivar.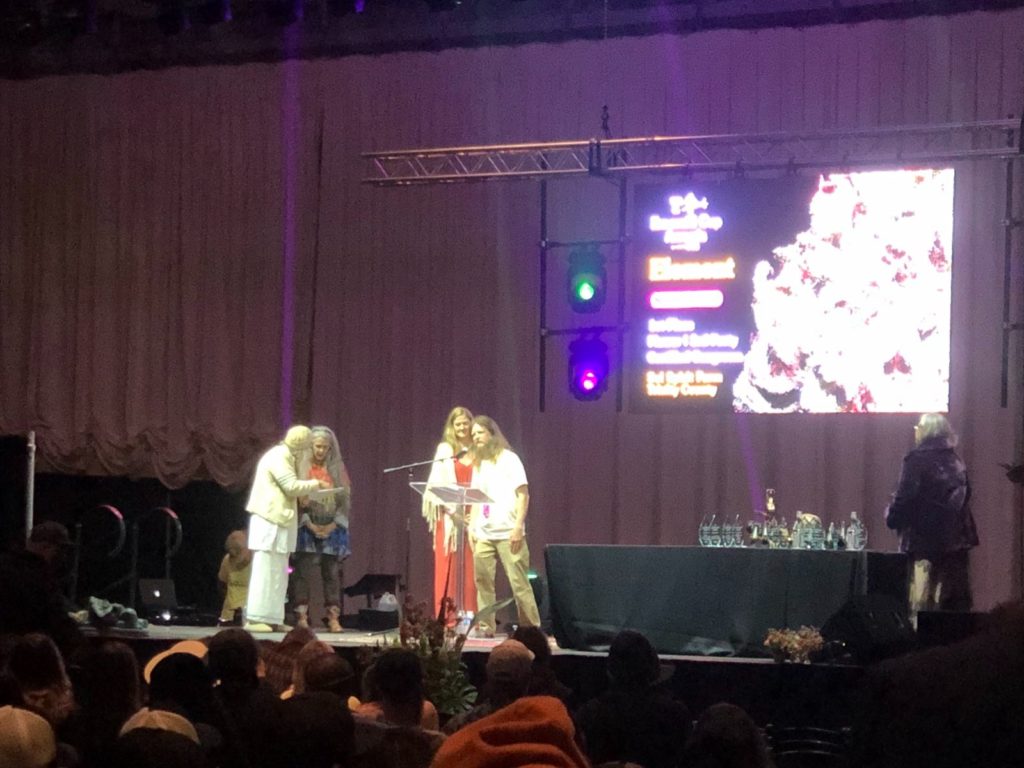 Huckleberry Hill Farm's White Thorn Rose wins big, again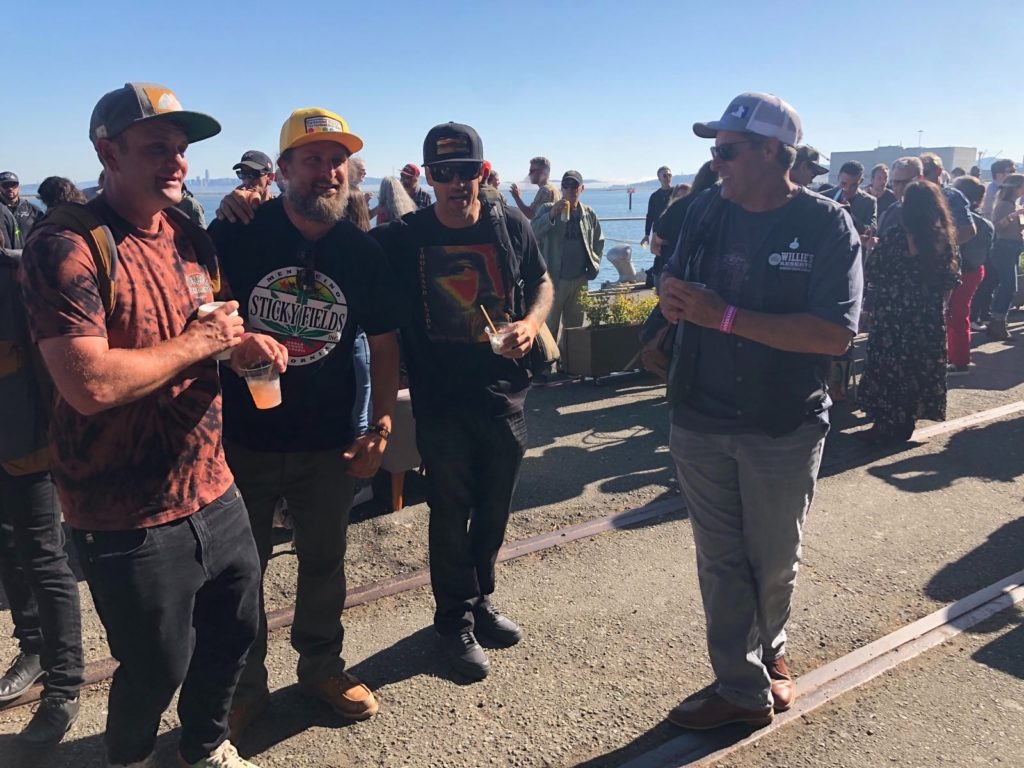 There are also farms that win big without even entering any flowers. This is the case with Huckleberry Hill Farms' White Thorn Rose. The solventless hash processed by Heritage Hash won 1st place again while the infused preroll featuring WTR on WTR also won first place in the Infused Pre Roll category – which Emerald Cup says is one of its fastest growing.
Winning one Emerald Cup Award is cool enough – just ask @freegrow8 – the winner of the Amateur Photography Award.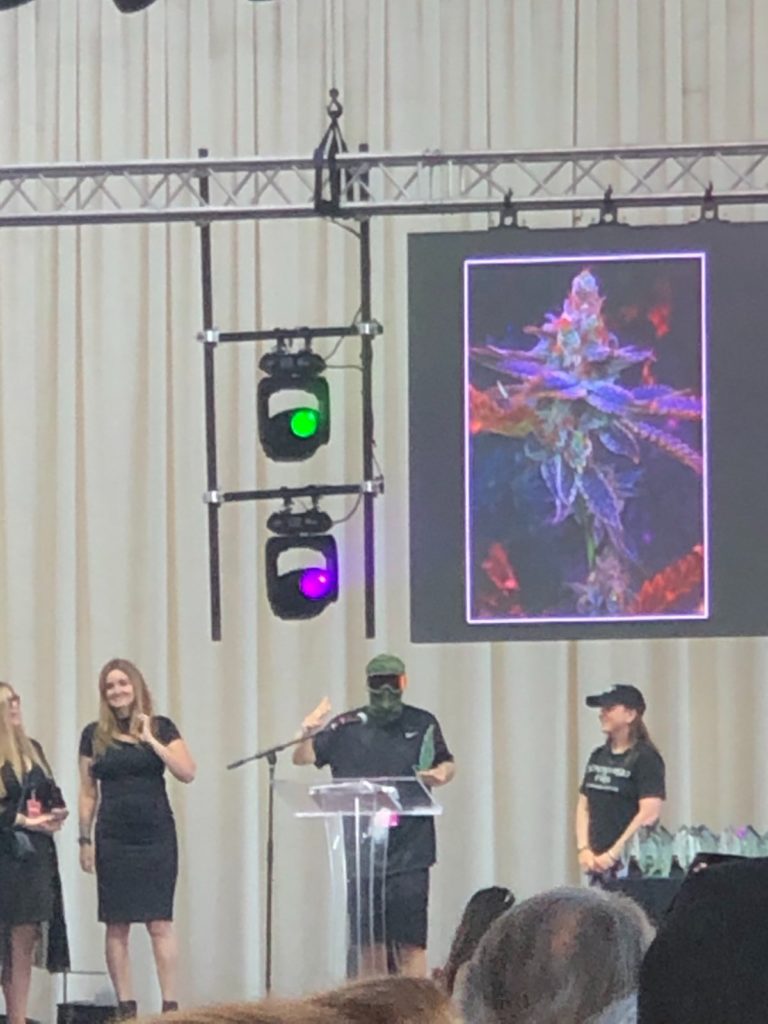 Or any of the three already well decorated chef founders of Oui'd Confections, who took home a 1st place Emerald Cup Award in the Edible Sweets category with their infused chocolate bonbons.
But taking multiple awards every year, year after year? There are titans in this industry walking among us, brushing shoulders and dropping knowledge. This magical event transports us to an alternate reality where people actually appreciate and celebrate that. As Julie Chiariello of Skunk Magazine says: Long live the Emerald Cup.
Emerald Cup Awards Show After Party
At the end of the awards show, the after party started – Scheduled to run past sunrise. The Craneway Pavilion is right on the water and is actually a stoner's stoned stone's throw away from the red carpet. A double decker boat pulled up and people moved to the boat for the featured boat party held by Guild Extracts. Those that tested their sea legs had the opportunity to take a dab out of an ice sculpture. What a pleasantly crafted campaign.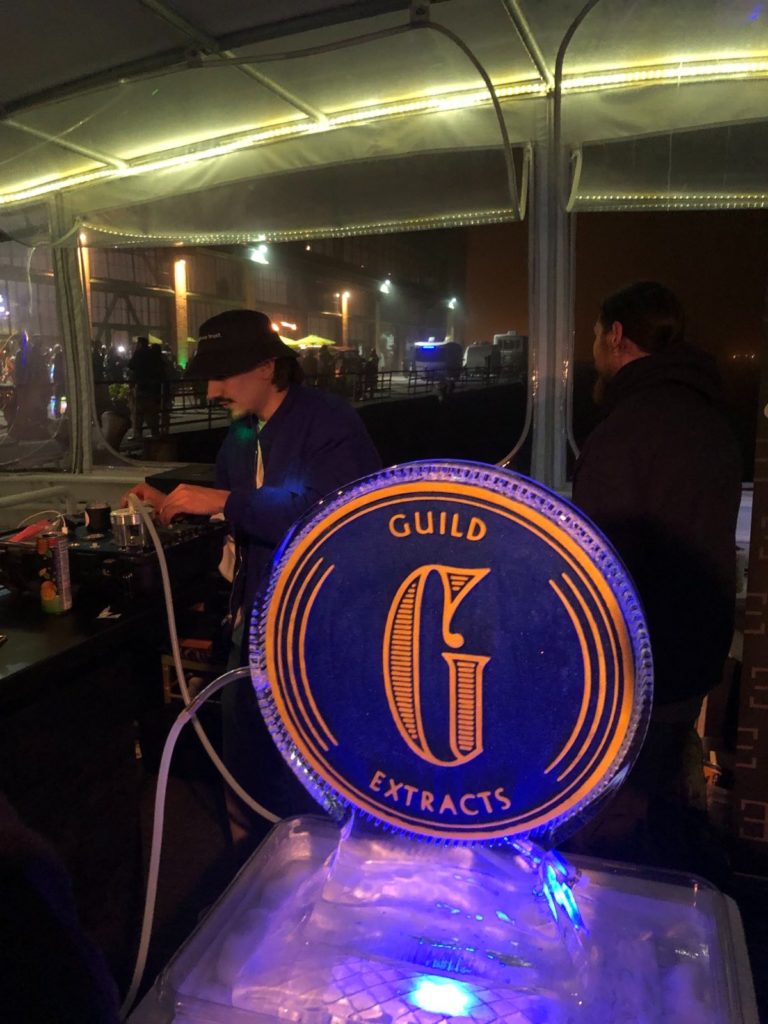 In the pavilion, the music was going. The rows of folding chairs were removed to make way for a stage surrounded by couches in a semi circle facing the muzik – which was quite bumpin'. Conversations were yelled or just mimed. I saw many gifts and instructions on how to use them exchanged without a single word just hands to mouth. Am I allowed to jokingly call this a concert specific Hightalian or Stoned Ape accent?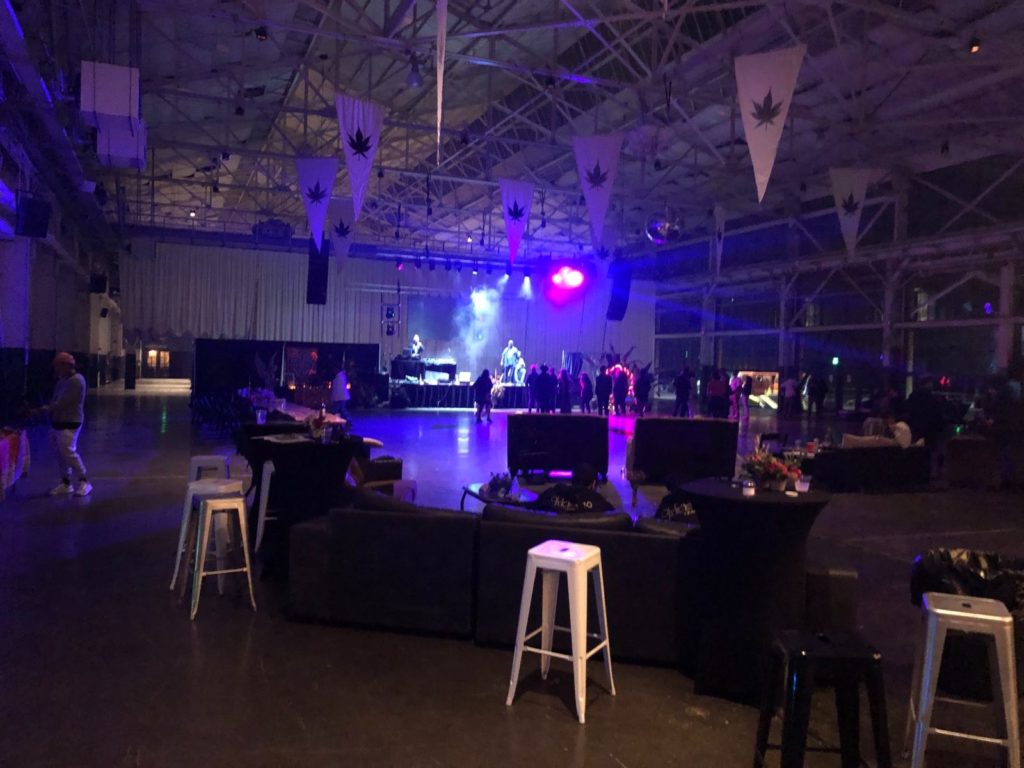 At some point in the AM, I overheard two people talking about how nice the event was because of a lack of certain MSOs and the vibe they bring. I was thinking the same thing. It's funny, the Emerald Cup Awards Show can be broken up into the part that happened in the PM, and the part that happened in the AM. The parts that happened in the PM, namely the awards – will echo in history for eternity. The parts that happened in the AM were much more intimate. Old friends caught up, people danced, people vibed, and people fried.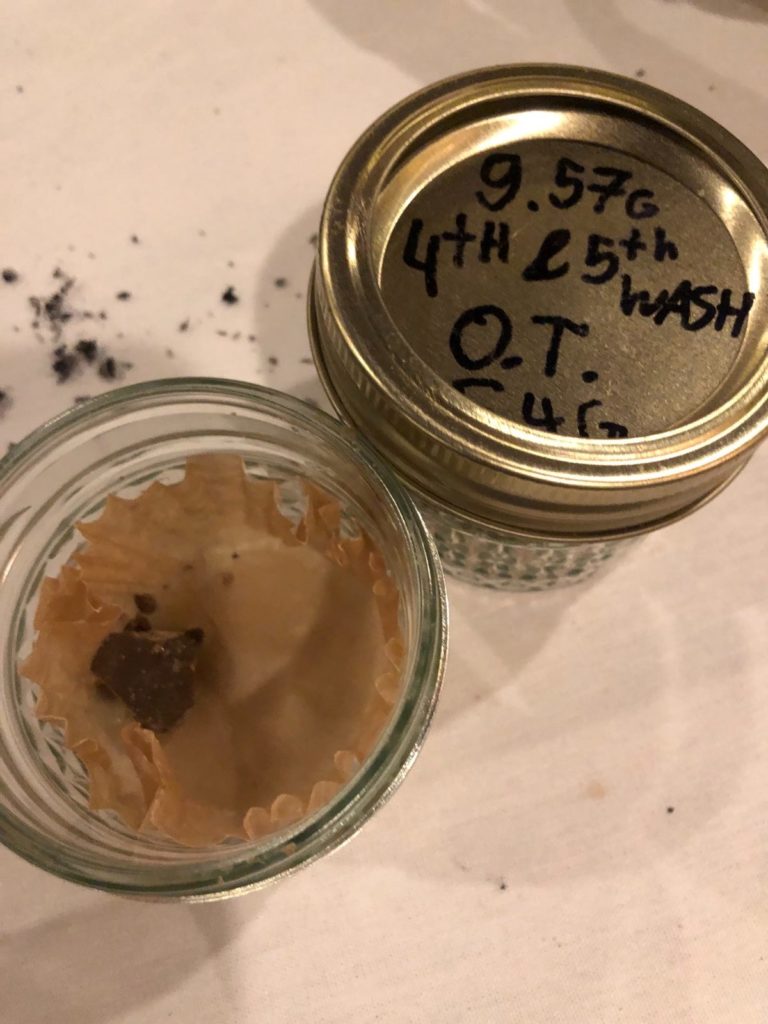 I was blessed with a chunk of Orange Turbo hash by Dre from the Bay. My first personal taste of the Orange Turbo Group Grow Project in Frenchy's name besides the hookah from earlier. Ooh La La.
The later it got, the less people were around… But I made it to 420 part 2.
4AM – Pat from Farmer and the Felon went on for the last set. I'm forever grateful to him for two things: He adjusted the volume to bearable levels and I was able to remove my earplugs and the Farmer and the Felon team also went around and blessed the handful of people on the couches with jars. Grape Ape and Doc 15… Even the sleeping people got blessed. Of the two, I should have smoked the Doc but I went grape and well, it was great.
4:20AM – We were all smoking some Farmer and the Felon. The chill music meshed perfectly with the vibe and time stood still for a second. Then the beat dropped.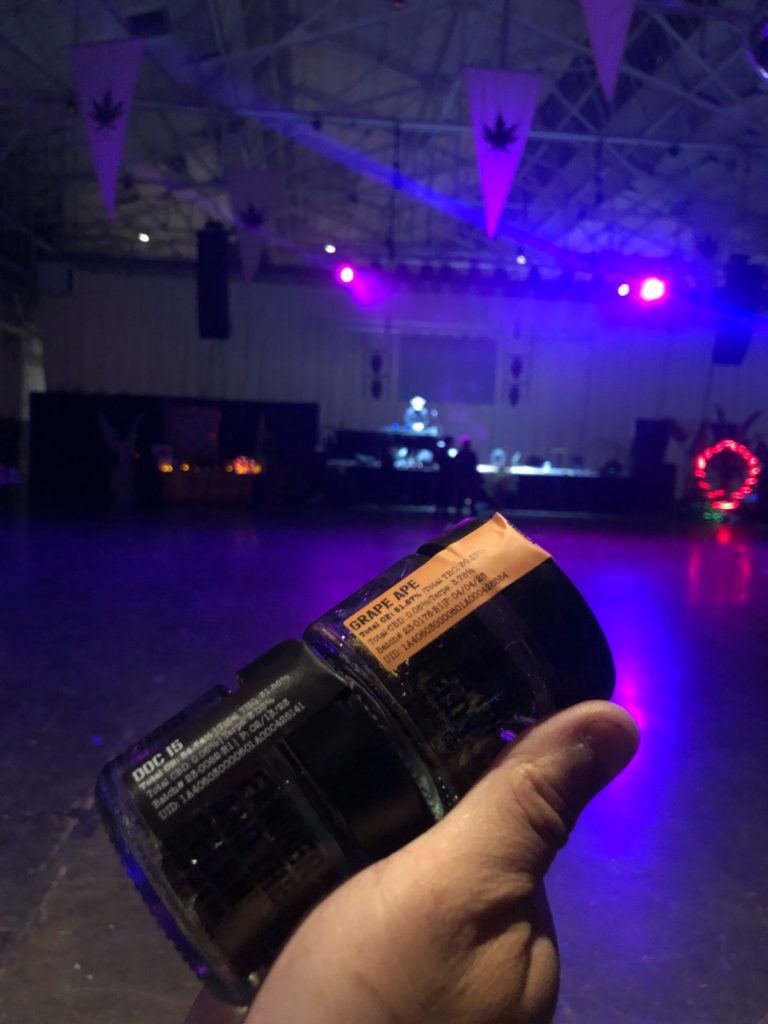 At 5AM, the music faded to punctuated yawns. The number of hanging cannabis flags outnumbered the number of flagging hanger-onners and the #madeittosunrise crew congregated around and inside the iconic orange Farmer and the Felon van. "Ready to work" as Tim Blake put it. After all, the event organizers still had to put out breakfast for the planned wake n' bake and see the event over and the venue returned to its non-cannabis celebratory state.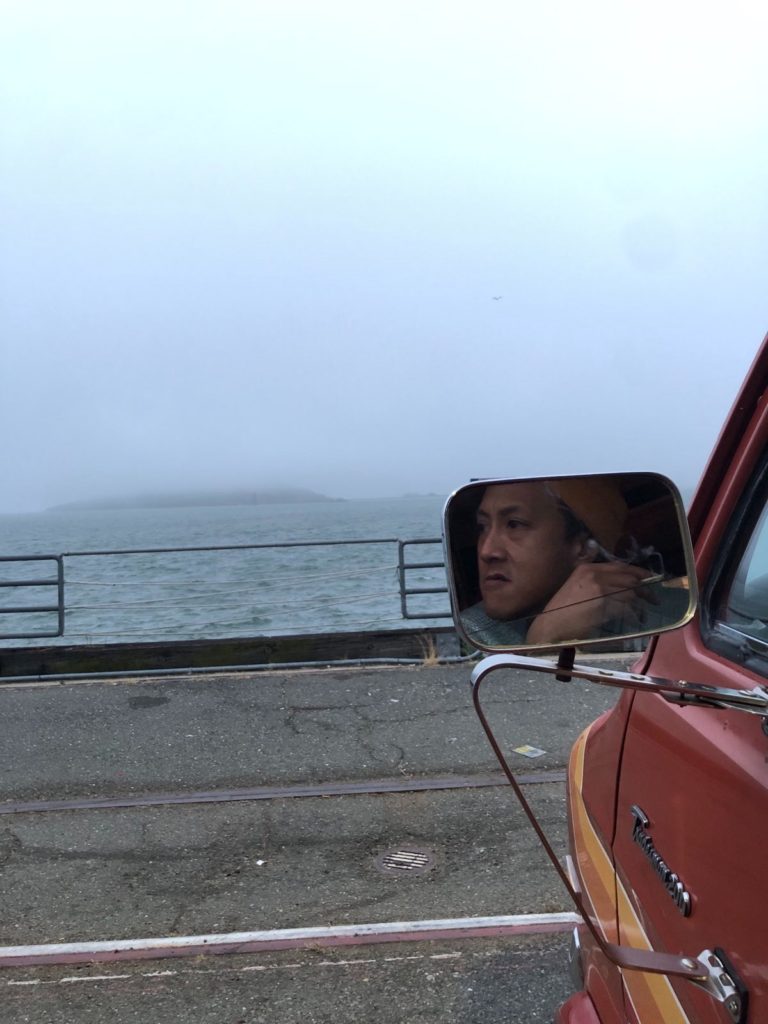 Shortly before 9AM, I was walking in the parking lot when I saw Swami come out of the RV parked next to my van. Neighbors for a night.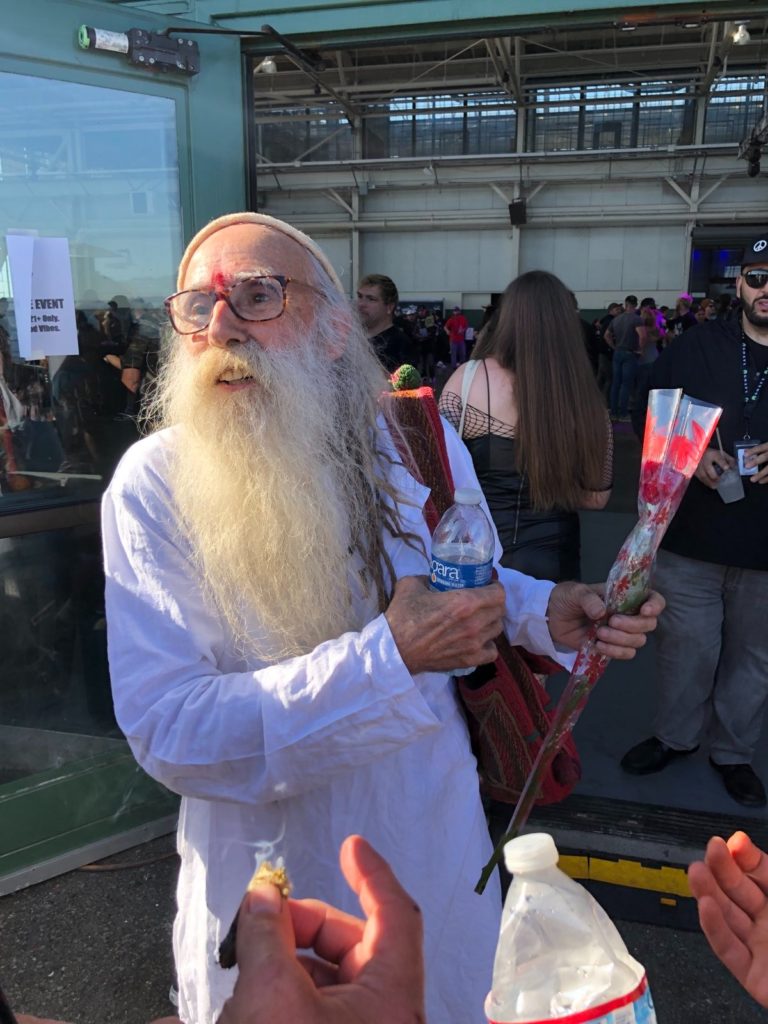 If y'all want to catch Swami and Nikki – please come to the Mendocino Craft Farmers Auction in June!
After 9AM, it became clear that the magical timewarp into the alternate universe of The Emerald Cup was over. The brief glimpse into the future where cannabis is completely normalized and the entire world celebrates the best breeders, growers, processors, and innovators in the space ended. While standing and smoking a doobie of the Cheese pheno of AM Lime – a sister of the Terp Blendz 241 – with the Ganjier Grounds' own Ganjier, Alex… parking lot security drove by and told us we couldn't smoke here.
Til' the next time!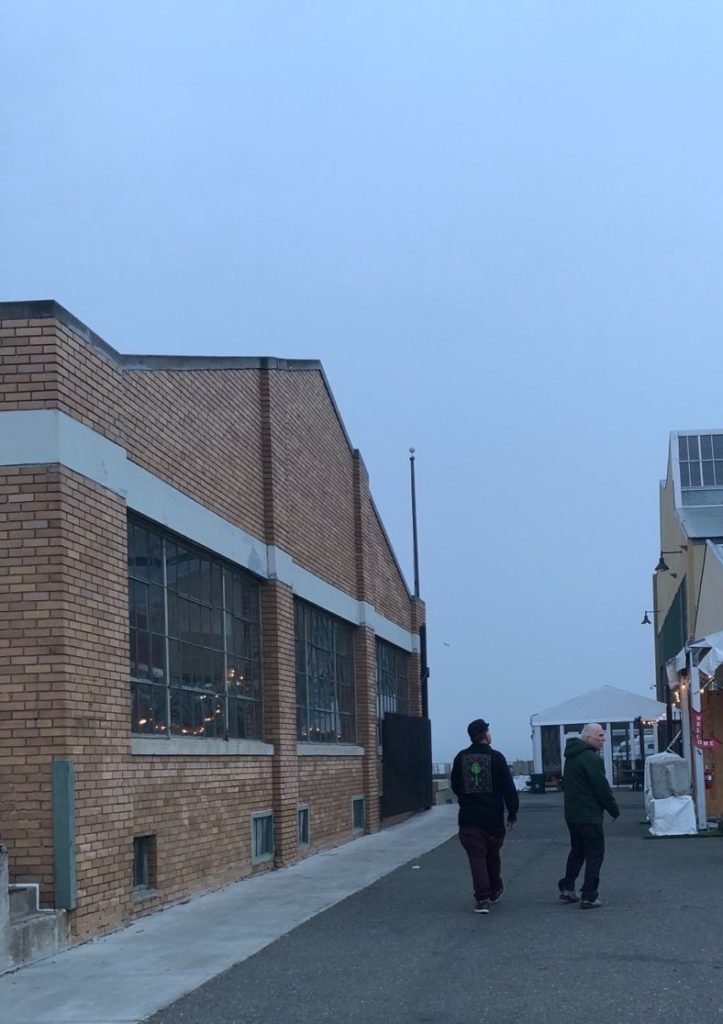 Advertisements