Strain Review: Sour Apple Killer by Jungle Boys
Strain: Sour Apple Killer 🍏🗡
Grower: @jungleboys
Lineage: Natural Born Killer (NBK) x Sunset Sherbert x Sour Apple
Indica or Sativa: 50/50 Hybrid
Original Breeder: Jungle Boys
Grower: Hezekiah Inc.
Dispensary: TLC Collective
Sour Apple Killer Strain Review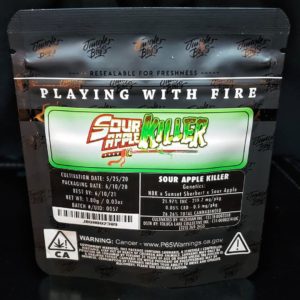 Stats: 21.97% THC – .05% CBD
26.26% Total Cannabinoid
Aroma: Flinstones Vitamins, Green Grape, Slight Cheese.
Taste: Tart Pomegranate, Sour & Unsweetened Green Jolly Rancher, Coconut Car Freshener, Sweet Earth.
Medicinal Effect: Slight head & body. Suited for light pain relief and relaxation.
Structure: Under natural lighting dark purple hues peek out from the light green leaves and orange pistils. Not fluffy, but not dense. A little dry for my taste.
Overall: Intrigued by the family tree and promise of flavors, I decided to pick this one up from @tolucalakecollective – And eventually, I'd like to try most of their drops so this is one I hadn't had before. The notes are subtle, complex, and somewhat muted, I suppose. I guess I could compare this experience to drinking a sour beer. I definitely have to be in the mood, I'm not expecting to get drunk, and I'm looking for something that is going to pucker my lips just a bit. I do get the slight mouth-watering effect, but to be honest, this one is gonna take 3 or 4 bowls for you to really feel it. Not a huge fan, but there's a time and a place for it.
The Fire Scale: 6/10 flame-bruisers
🔥🔥🔥🔥🔥🔥
#cannabis #420 #losangeles #lacannabis #weedporn #cannaseur #nugshot #fire #thefirescale #og #kush #weedstagram420 #weed #strainreview #wesmokedifferent #indica #sativa #hybrid #wepackdifferent #playingwithfire #designerweed #craftcannabis #sourapple #sunsetsherbert