Concentrate Review: Sundae Supreme Hash Rosin by Smith Valley
Sundae Supreme Ice Water Hash Rosin
.
.by @smithvalleyllc made with @coldcreekcannabis flower.
.
Lineage/Genetics: Unknown
Original Breeder: Unknown
Grower: Cold Creek Cannabis
Processor: Smith Valley LLC
Dispensary: Nature's KISS
Sundae Supreme Ice Water Hash Rosin Review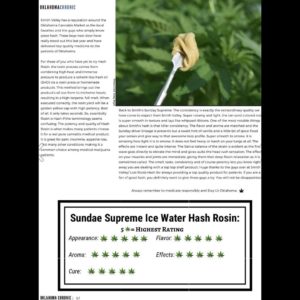 Back on the hunt, and the pursuit for the finest cannabis products in Oklahoma has been filled with lots of new names. As the super essential, ever booming market in Oklahoma grows even more, new Cannabis companies are popping up everywhere. The overall quality of product has increased quite a bit in just the last couple months.
This month, I knew I had to give my fellow hash lovers something great so after checking out so many new and already existing hash makers. My instincts did not fail me, and I ended up back where I started with my first pick for the best Hash Rosin. This review is for the Hash Rosin lovers for sure. There's two types of people in the World, people that like hash and people that love hash.
If you love Hash you probably have heard of Smith Valley or Lost Roots Hash. Smith Valley is known for its high quality solventless ice water hash Rosin, and of course for using only the best flower for their hash. So, when I told the guys over at Smith Valley I needed something spectacular for this issue, they did not disappoint.
Sundae Supreme Ice Water Hash Rosin. Made with flower grown by Cold Creek Cannabis. Sundae Supreme is another hit pheno by Nature's KISS Love out of Tulsa. Exceptional Hash to say the least, Smith Valley exceeded my expectations as usual.
If you had heard the name Smith Valley you have probably also heard the name Lost Roots Hash, they are actually the same company. Smith Valley and Lost Roots merged and took on the main name Smith Valley, but You will still see the Roots name active on social media and if you see the label you will know you're getting Smith Valley quality. Friends since High School, Michael Valli and Arley Boyd along with Mansour Valli and Nicholas Von Rodenstein make up the team over at Smith Valley/Lost Roots Hash…Read the rest in the July Chronic!
.
#strainhunter #privatereserve #topshelf #exuisitecannabis #okcannabisculture #cannabis #okcannabiscommunity #highsociety #theoklahomachronic #okcannacritic #strainreviews #cannalifer #reviewpreviews #publishedreviews #originalreviews #notyouraveragereviews
Advertisements