Strain Review: Gorilla Nut by Emerald Fire Meds
Gorilla Nut
(Peanut Butter Breath x Gorilla Butter)
.
.
By Emerald Fire Meds
Lineage/Genetics: Peanut Butter Breath x Gorilla Butter
Original Breeder: Fresh Coast Seed Company
Grower: Emerald Fire Meds
Gorilla Nut Strain Review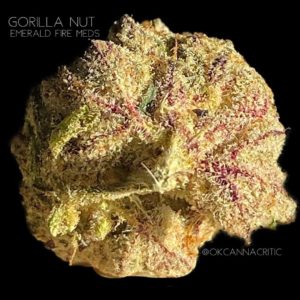 .
.
Fresh Coast Seed Company's amped up Peanut Butter Breath is a spicy, sweet delight with deep earthy undertones, vanilla nutty highlights and an overall simply dank favor profile that lends a perfect match to its unmistakable aroma.
Unique and bold, Gorilla Nut is a Terp Aficionado's must try. The effects are absolutely intense and Indica leaning although despite the inevitable couch lock, focus is still possible. The bag appeal on this one needs no explanation as it will catch anyone's eye quickly.
A simply extraordinary grow by my friends over at Emerald Fire Meds. This gem is only available at Fire Industry, Emerald Fire's partner shop, for now. If you have the chance to grab this one, don't wait! Looking forward to seeing what these guys are doing next. Awesome job!
.
.
#strainhunter #privatereserve #topshelf #exuisitecannabis #okcannabisculture #cannabis #okcannabiscommunity #highsociety #theoklahomachronic #okcannacritic #strainreviews #cannalifer #reviewpreviews #publishedreviews #originalreviews #notyouraveragereviews #staylitoklahoma #smokebetter #emeraldfiremeds #fireindustry #freshcoastseeds #gorillanut
Advertisements