Strain Review: Peanut Butter Pop by Rio Vista Farms
20 reviews to 4/20!
@riovistafarms
@trunorcal420_
***Thanks for the support!***
#yee
Brand: Rio Vista Farms
Cultivar: Peanut Butter Pop
Lineage/Genetics: Do-si-dos x Mendo Breath
Original Breeder: ThugPug Genetics
Grower: Rio Vista Farms
Peanut Butter Pop Strain Review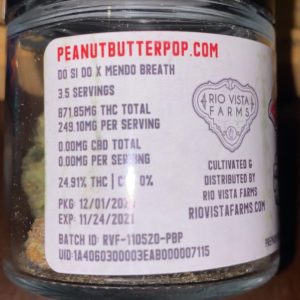 24.91 %THC
0% CBD
Pkg Date: 12/1/2020
Comments: Seen various cuts of this and had great vibes with the Mendo breath cross, but had a straight Do Si Do last year and it didn't jive on its own so let's see what happens here.
Review
1. Scent: Muted tones of grain, not a hay but a type of farm scent I can't place. Breaking them apart gives more "toasted" hues.
2. Appearance: Typical peanut style cut with spots that are knobbed with purple. Orange hairs, trichome shoot structure, easily
3. Nug Structure: Little dry but not dusted out using the grinder, but I'll go by hand.
4. Smoke: warm on the nose and throat. Easy on the exhale.
5. Taste: Reminds me of toasted coffee beans a little. (Prob complimented by the morning cup of coffee tbh.) I'll need to revisit.
6. Reaction: 30-45 mins in and I'm def feeling good but need a refill. It's a steady high but not a KO or a long range high. Just pretty steady, could use a tad more for the leg pain tho.
7. Conclusion: Nice rounded stone but not powerful enough to numb the leg pain. I have found that some of their runs are better than others, but this one was more meh.
#NoHashTagz
Advertisements