Strain Review: Mule Fuel by Sugarbud
🐴 Sugarbud's Mule Fuel
Lineage/Genetics: GMO x Mendo Montage
Original Breeder: ThugPug Genetics
Grower: Sugarbud
Dispensary: Ontario Cannabis Store
Mule Fuel Strain Review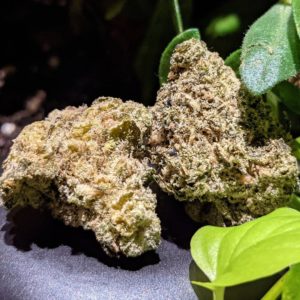 Sugarbud is the new darling of reddit so when we got their Prenup and Mule Fuel I had to grab both and damn I'm glad I did. Their rep is earned not only through impeccable flower that punches well above it's price and THC % but also the thought they have put in to creating a truly craft level experience.
To start the packaging is top tier, with a sleek glass jar and overall terp % listed right next to the THC, just as it should be (4.6% 🤩). They also have an online portal where they break down terps and trace cannabinoids, all specific to the lot.
Now to the actual flower. This mule kicked me straight in the 👃, but not with the dank durian skunk I was expecting from the myrcene dominant profile. Instead the myrcene interplays with pinene. A top note that is pungent with a ⛽ like nose tingle but underneath is a smell like earthy melon. The same way myrcene makes mangoes and papayas rich in flavor it makes the forest smells in the Mule Fuel deeper and more robust.
The bag appeal is one of the best on OCS and its miles ahead of anything at it's price. Only larger nugs that are dense, perfectly trimmed, fresh and sticky. The cure is impressive resulting in a very smooth smoke. The taste is much like the afternotes in the 👃. A richness accentuating autumn and soil, with the fuel returning in the aftertaste.
The high follows it's dominant terpene profile. There is a lot of couch lock from the myrcene making it super difficult to move the 🐶 blocking the tv. But the high pinene makes this one mentally stimulating. Perfect for 🎮, or that confusing show that takes some concentration. That is until the burn out, which is only slightly remedied by another hit. After a couple hours I was just as surprised at how much the 20% THC hit me as I was with how much it made me crash.
While couchlockers aren't quite my jam I'll be rebuying this next time I'm meeting a buddy to smoke too much. It has the vibe of old school kush, except with an obvious bump in every aspect of it's quality. And gotta mention again, 4.6% terps. Bravo Sugarbud, the Prenup review is rolling up soon, and I can't wait to see what you give us next! ⛽🦨🌲🛋️🎮
#ocs #ontariocannabisstore #ontariocannabisstorereviews #legalweed #legalcannabis #cannabisreview #weedreview #cannabiscommunity #cannabisculture #stoner #weed #cannabis #thc #budtender #budtenderreviews #420 #terpenes #420community #420daily #craftcannabiscanada #canadiancraftcannabis #canadianweed #canadiangrown #nugshot #budporn #weedporn #dank #sugarbud #mulefuel
Hey my name is Sean out of Body and Spirit Cannabis, a fully independent licensed bud store at Yonge and Dundas in Toronto. Super sensitive to strain differences, I like to keep a bunch on hand for exactly what I want or need to feel. The alternative is my day is ruined or I don't get to smoke! Be sure to check me out @sean.bodyandspirit for a full list of reviews and stop by the store to say hi and check out the new drops we're smoking!