Strain Review: Terpee Slurpee by Eugreen Farms
I've been trying to smoke more @eugreen_notill lately. It's not like I really needed to expand my repertoire in this department, but they're weed is fucking fire. I grabbed this Terpee Slurpee from @thc.pdx on a whim when I was grabbing some other weed.
Lineage/Genetics: GMO x Orange Zkittlez
Original Breeder: Surfr Seeds
Pheno Hunter: Phat Panda
Grower: Eugreen Farms
Dispensary: TreeHouse Collective
Terpee Slurpee Strain Review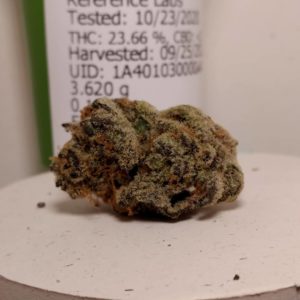 I honestly haven't been into the citrusy weed for a while. For the most part, you get the same thing with every batch. Jack terps at best, lemon Pledge, hurting lungs, and cough attacks at worst. That said, this stuff had some really unique qualities to the citrus notes it brought.
No cleaning supplies or artificial lemon here. I got orange zest and lemon-limeade. A lotta sweet, but not super tart fruit notes. Like, really pleasant.
The high was fairly active and functional for a GMO cross, but there were some notably relaxing qualities in the body high. There was a thought expansive quality to it that might lead to some anxiety in people who need control, but it's probably for the best. Gotta face your shit eventually, right?
Overall a really solid offering if your looking for, say, hiking weed or something to get you through a tough shift. This review isn't as in depth as I tend to aim for, but it was either this or Terpee Slurpee falls through the cracks, and that would be a travesty. Give @soil_goons a try if you get the chance. With how many people are carrying them these days, you'll get a chance soon. Next ones I want to try from them are the Kitchen Sink and their Donny Burger. They really know those GMO crosses outta the park.
#thehighestcritic #strainreview #strainreviews #weedreviews #420review #portlandcannabis #OMMP #portlandweedreviews #MMJ #oregoncannabiscommunity #portlandcannabiscommunity #oregonweedreviews #Medicate #oregoncannabis #PNWStoners #PDXcannabiscommunity #pdxcannabis #pdxstoners #cannabiscommunity #cannabisreviews
Advertisements