Strain Review: Banana Macaroons by 530 Grower
Countdown to 420!
**Thank you all for your support!**
@530_grower
@perfectunionstores
@trunorcal420_
Brand: 530 Grower
Cultivar: Banana Macaroons
Lineage/Genetics: Do-si-dos x Banana Punch
Original Breeder: Symbiotic Genetics
Grower: 530 Grower
Dispensary: Perfect Union
Banana Macaroons Strain Review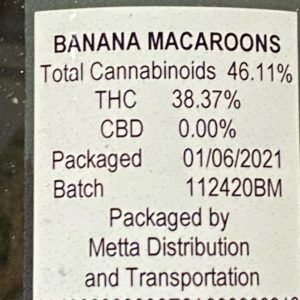 38.37 %THC
0% CBD
46..11% Total Cannabinoids
Comments: Yo! These numbers are hella crazy! This was a house 8th at Perfect Union on sale at a discount (buy 1 get one @ xyz) so I said yolo and grabbed it.
Review
1. Scent: Popped the jar and didn't smell anything at all. No profile to speak of. 🤔
2. Appearance: Dusted with tons of trichomes, bumps here n there of crazy green/purple colors. Pretty for sure.
3. Nug Structure: These are dense yet dry buds. I've gone away from rehydration but I'll see if I have something to bring this back to life. Dusting in the grinder 😬
4. Smoke: Hot. Chest is feeling this one, nose gives a biting kind of spice/heat on exhale.
5. Taste: Dull kinda rubber that rolls into a banana peel-ish taste. Nothin too wild tbh.
6. Reaction: For not having a lot of smell or taste, it's def got me heavy eye leaning immediately. Off my rocker within 20 mins and I'm relaxed and not anxious. Total stone about 45-55 mins, maybe on first season. 2nd session I was ripped for bout an hour and a half. Interesting.
7. Conclusion: I'd personally take terps over THC content, but this was the house special for another 8th I'm reviewed. The lack of the nose really was sus. The date appears fresh but the results in the jar show a diff story. However, this got me toasted…toss up on this flavor. This is one that I'd prob skip for another flavor, but, remember it got me stoooooned. 🤷‍♀️
#NoHashTagz
Advertisements