Strain Review: Modified Grapes by LitHouse
4/3! Yee 😆 17 more to go before 420!
@_lit_house
@trunorcal420_
**Appreciate y'all! #Yee! **
Brand: Lit House
Cultivar: Modified Grapes
Lineage/Genetics: GMO x Purple Punch
Original Breeder: Symbiotic Genetics
Grower: Lit House
Lit House Modified Grapes Strain Review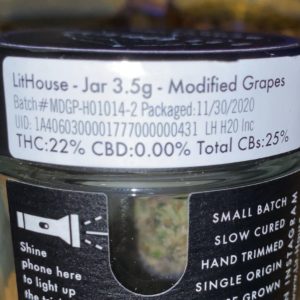 22.0 %THC
0.0 % CBD
25.0 % Total Cannabinoids
Pkg Date: 11/30/2020
Comments: Yee! Man, it's been forever since I had Lit House; skipped them over the last year, like a moron. Was glad to give this one a review.
Review
1. Scent: Little fruity grape and that back end stank of GMO. Lol. It's unmistakable for sure, but slight.
2. Appearance: Interesting collection of purple, green, and reddish Orange hairs coated by trichomes. Halfway lookin GMO lookin bud but not that weird type of bud arrangement.
3. Nug Structure: Sticky still even in the last nugs. Pulls nicely or grinds up just right. Good moisture content.
4. Smoke: Couple rips off the bub, it's a lighter exhale smoke. Not blowing up the house like a hot box. Pleasant on the tongue and no problem with a cough.
5. Taste: I'm finding a bit of a sourish grape hint which is making me salivate.
6. Reaction: Two rips for good measure and now we find a nice focus but top of the head peeling slightly front to back.
7. Conclusion: Purple Punch has always been "meh" and I'm personally not into the super gassy notes of a typical GMO, but I'm really giving with this one. Maybe it's the brand familiarity after not copping em for a year, but I'm def feeling this one.
#NoHashTagz