Strain Review: Lava Cake by inhalence
4/4 – Countdown to 4/20!
Happy Easter 🐇
@inhalence_ @inhalenceflower @inhalence
@trunorcal420_
Brand: inhalence
Cultivar: Lava Cake
Lineage/Genetics: Grape Pie x Thin Mint GSC
Original Breeder: Cannarado Genetics
Grower: inhalence
inhalence Lava Cake Strain Review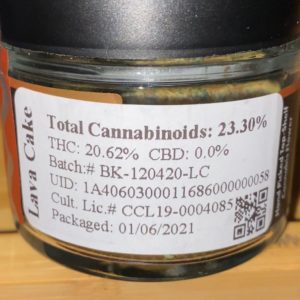 20.62 %THC
0% CBD
23.30% Total Cannabinoids
Pkg Date: 1/6/21
Comments: Gotta give this one a whirl! New to me brand, this was a bday gift and I'm finally finishing the review. Thank you! YEE
Review
1. Scent: Fruity terps, creamy back end and flavors that runs a grape like to citrusy vibe.
2. Appearance: Good looking green with purple underlines here and there. Def looks like an outdoor run. Not leafy but a good bud grown via sunshine.
3. Nug Structure: Good hand breaking, good using a grinder. Even a month after having the first bowl the bud is still fresh and sticks to my fingertips.
4. Smoke: Nice rich cloud on exhale. Small tingles on the throat, but not coughing. Magnifying bowls tho. Wow. Hella smooth.
5. Taste: Lady wasn't a fan. I'll sneak a bowl to verify. Prob the citrus style terp profile. Sugary and then the citrus. Pretty nice, but since the misses isn't a fan, I'll be smokin this on me own. Using a magnifying glass to hit it was wild on the juicy and earthy flavors. But with a lighter you get that as well.
6. Reaction: Eyes lit up for sure in first few moments, head trip first 10-15. Body is feeling nice for the remainder. Prob an hour round trip between bowls. I kept this one for about a month or so before finishing the review and it tasted exactly how it did on first hits.
7. Conclusion: Yee hella ripped! I can't believe the lady wasn't feeling this but hey, whatever! I've had a great time and found the mood uplift along with the relaxation was great for a sunny spring day. Can't wait to get more of this brand!
#NoHashTagz