Strain Review: Black Gushers by Kush Rush Exotics
BLACK GUSHERS
Indica – ~26% THC
By: @kushrush_exotics @uncle_kush408
Via: @24k_exotics
Lineage/Genetics: Garlotti (Chem D x Gelatti) x Gushers
Original breeder: Cannarado Genetics
Grower: Kush Rush Exotics
Black Gushers Strain Review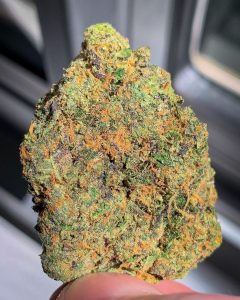 Good news fam, @24k_exotics is back with a fresh batch of Kush Rush Flower. My first impressions of the brand were highly complimentary, so I'm excited to try some more. Let's dig in.
Fresh out the bag, Black Gushers looks like some real heat. Black Gushers has arrived as chunky teardrop shaped buds which are so dense and hefty it feels like they are falling off the stalk. I love that feature. The outermost layer of the buds possess moss and juniper green sugar leaves and outer calyxes, masking a deeply colorful, violet and sangria colored interior. The first few photos were taken at sunset, and you can really get a sense of the true color pallets at play whereas the last few, taken in the shade, presents a more muted, yet still sexy look. See for yourself!
The nose on Black Gushers is predominately sweet, yet surprisingly creamy, with overtones of an herbal spice and citrus. Lighting Black Gushers up, an herby 'black licorice' flavor really came across, most notably a muted candied fruitiness amidst your classic kush. More of a 'jelly bean' flavor than outright fruit. The exhale was consistently gassy with A sweet earth, almost cookie like finish with a touch of berry every few hits.
Black Gushers effects were felt immediately behind my eyes and resting on my cheekbones, first clouding and soon invading my thoughts with a heavy embrace and blissful mental fog. Intense focus/productivity may not come easy under the effects of Black Gushers. Physically, I found this strain to be highly sedative and delightfully lazy, but not necessarily a sleepy high (especially during daytime use). A full body tingle turned to melt, the effects of Black Gushers feel almost restorative as it sweeps away a whole medley of ailments for a few hours.
#Budfinder
•
•
•
•
#dcbud #dc420 #420 #dcweed #mdweed #stoner #marijuana #dccannabisculture#strainfinder #thc #dccannabis #dcdabbers #puffpuffpass #dopesmoke #dmv420 #topshelf #stoner #whiteashonly #cleanmeds #i71 #kushrush #kushrushflower #blackgushers
Advertisements