Strain Review: Blue Zushi by The TEN co
Blue Zushi (Vol. 3) / 🌈🍣
Lineage/Genetics: (Zkittlez x Kush Mints #11)
Original Breeder: The TEN co
Grower: The TEN co
Terpene Profile: Unknown
The Ten Co Blue Zushi Cannabis Cultivar (Strain) Review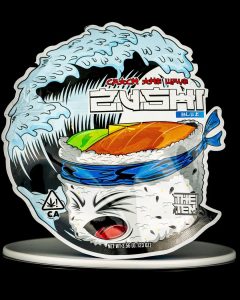 Good afternoon and a very happy 420 to all you beautiful stoners out there! 😁 I hope you're all enjoying yourselves today and managing to celebrate in whatever way you can ✌🏻 Seeing as it's such a special day for us all, I figured it was only right that I shared a special strain for today's post – 'Blue Zushi'. This incredibly popular strain from the team @_z_u_s_h_i at @theten.co is an Indica-dominant hybrid with an unforgettably delicious and unique flavour.
It was this very flavour and the combined fantastic effects that have won this strain multiple awards at prestigious events such as the @zalympix 🙌🏻 Now, for those of you who follow my page here, you know that I've already done an official review with photos of this strain before in December of last year (please see previous post). So, because of this, I won't be going into too much detail on it with today's post.
Now, before anyone tries blasting me for having copped a boof pack here due to the lack of an official sticker of authenticity on it…I had in fact got this pack earlier this year before The Ten Co started issuing said stickers on their packs to distance themselves from Zushi imitations – so fear not!
To nail down the key points of this flower for those who haven't been lucky enough to try it yet – the aroma is very Zkittlez-heavy; we're talking straight candy terps here. In this depth of sweetness you can pick out some orange zest along with notes of savory sushi and some gas. This translates rather clearly onto the palate – once again, you'll mainly be getting those moreish and pungent candy terps saturating your mouth 🤤
The effects were quick to come on with this one, starting off with some pressure behind the eyes and around the head. This was accompanied by a rather calming sensation that led to a wave of relaxation and euphoria, leaving me happy and free of any stress. I wasn't getting a huge amount of couch-lock effects, however, if I continued to make a session out of smoking this stuff then I probably wouldn't have left the house!
As stated in my original review of this strain – this stuff is just special… Truly some of the best bud I've ever smoked in my life. The aroma and the flavour alone are to die for – they're so unique and at the same time bare so many of the familiar terps that we all love and enjoy so much today. That is, in itself, a special thing to pull off; to make something familiar but new, to take the things we love and to reintroduce them in a way that makes them a whole new experience.
The branding design for this strain and its sister packs in the Zushi range follow this same ethos brilliantly as a marketing move; making these products stand out from the rest of the crowd in the same way their quality and character allows them to… To the talented folks over at The Ten Co – I salute you for this triumph 👏🏻 To those of you whom haven't been able to try this strain yet; you better catch the wave. Keep it ten 🔟
🌱 @theten.co @_z_u_s_h_i 🔌 @ramsgaterosin #bluezushi #strain #thetenco #zushi #keepitten #bud #cannabis #weed #thc #cannabiscommunity #trichomes #cannabisculture #420 #weedstagram420 #cannabisphotography #420daily #weedpics #weedporn #premiumflower #instaweed #cannagram #macroweed #nugmag #weedworldmagazine #hightimesmagazine #skunkmagazine #leafly
#macrocannabisphotography #thebudstudio