Strain Review: Whoa-Si-Whoa by Top Shelf Cultivation
Strain: Whoa-Si-Whoa
Who: @topshelfcultivation_
Lineage: The White x Do-Si-Dos
Original Breeder: Cannarado Genetics
Grower: Top Shelf Cultivation
Dispensary: LB Collective
Whoa-Si-Whoa Strain Review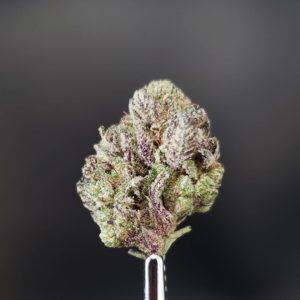 Stats: 28.2% THC – .05% CBD
34.55% Total Cannabinoids
Aroma: Gasoline, Citrus Peel, Rosemary, little bit of Menthol.
Palate: Sour Gas, Classic OG & Dank Purple Notes, Grapefruit Peel, touch of Holiday Herbs.
Structure: Amazing cure, came out soft, tore apart easily, exposing the beautiful dark purple interior. Decent sized nugs, not complaining. Leaves behind a TON of little crystals.
Medicinal Effect: High-Strength – Feels like an indica leaning hybrid, which it is, because of the relaxed, sedated feeling I get. There is a bit of a head shift, too. The moment I exhaled I could feel a lot more head pressure than usual. I would imagine that this would be great for severe pain relief, arthritis, etc.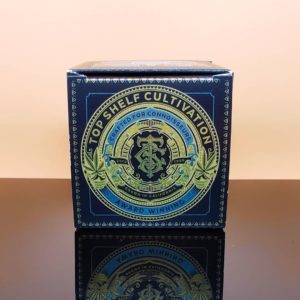 Overall: This brought me back to my pre-ICO days. For those of us that remember, there were days when you would pull up to a dispensary and you could see the newest batch of XXX, King Louie, Green Crack, or Jet Fuel being brought in right through the back in large tupperware bins. Those would be coming straight from the grower, fresh, untested, and fucking 💣.
Cracking open this jar I am instantly transported right back to those old strains. Classic OG notes shoot from the jar – my girlfriend across the room asked, "What is that?" And she doesn't even smoke. When I break it up and pack my bowl I can feel the excitement as it just breaks up beautifully and the cure is just wonderful. As I take my first combusted hit, my eyes water just a tad, and again, I am blown away. The flavors (purple, OG, sour D) are unique to cannabis only, and showcase these profiles exceptionally.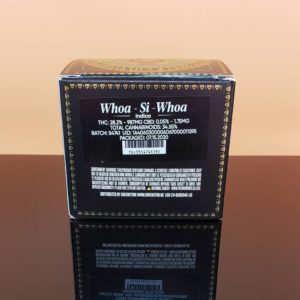 The gassy Do-Si-Dos notes have never been more present, or concentrated, than in this strain. The White is traditionally known for it's lack of flavor, a mothball-like quality, and it's ability to cross with other strains to make them even more potent. Wise choice to cross with Do-Si-Dos – the result is unbelievable. This is a strain, like MAC, that I would ALWAYS like to have on hand. It is that good. Get some before it is gone. A bit expensive, but worth it.
The Fire Scale: 10/10 flame-walkas
🔥🔥🔥🔥🔥🔥🔥🔥🔥🔥