Strain Review: 91 Malibu Fire by Wicked Gardens
Strain: 91 Malibu Fire
Who: @wickedgardensca x @greenangelshermanoaks
Lineage/Genetics: Fire OG x Fire OG (20 year old cuts)
Original Breeder: Wicked Gardens
Grower: Wicked Gardens x Green Angel Sherman Oaks
Dispensary: Green Angel Sherman Oaks
91 Malibu Fire Strain Review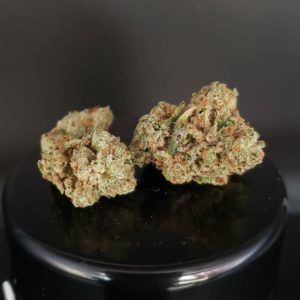 Stats: 29.35% THC – .08% CBD
35.98% Total Cannabinoids
Aroma: Rosemary, Soil, Lemon, Sawdust, Juicy Fruit Bubblegum, Mint.
Palate: Pepper, Vanilla, Lemongrass.
Structure: Whispy, Medusa-like green daggers crown the crest of this bud. It's a tight pack, leaves break off in chunks between my fingers, and it's a little dry on the cure for my taste.
Medicinal Effect: Moderate-High Strength: For me, this feels like a 50/50 hybrid, because I'm alert, but relaxed without being dragged down.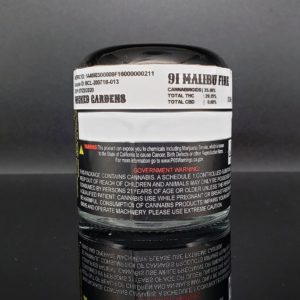 Overall: This is a legendary strain right here, folks. These "91" cuts from Wicked Gardens are only available at Green Angel Sherman Oaks, which stem from an OG Kush clone that has stayed totally pure and unadulterated. They've moved locations so many times from Sherman Oaks to Malibu and back that I lost track of them and after 8 years, I have returned. These cuts are the closest that I've found to smoking and experiencing top-tier herb from way before I started smoking. If they don't have this then you can grab their Wicked Legendary or anything with a 91 in it. It's all really good.
I haven't had this strain in about a decade, but from the second I cracked open the jar the familiar smell came right back. Unfortunately, this smell is just straight up unique to these growers and I did my best to describe it, but you do have to try this one out for yourself to understand. Smooth, soft pepper is at the forefront for me, followed by some literally, classic OG Kush notes. The flavor isn't as bold as I remember it to be, which I attribute to all the regulations and testing that bud has to go through now. I'm a little let down, but still very happy that I was able to re-live some flavors from another time in my life. Will definitely come back. This strain can be a 10 but for this batch…
The Fire Scale: 8/10 flame-trohfees
🔥🔥🔥🔥🔥🔥🔥🔥
Thanks to @fourscore420 for putting them back on my canna-radar.
#cannabis #420 #lacannabis #weedporn #cannaseur #nugshot #fire #thefirescale #og #kush #weedstagram420 #weed #strainreview #wesmokedifferent #indica #sativa #hybrid #cannabiscommunity #stayhigh #weedstagram #hightimes #smokeweed #smokeweedeveryday #cannaseur #thefirescale
#fireog #ogkush #kush