Strain Review: Widowmaker by Pearl Pharma
@pearl_pharma introducing a new cross of Private Reserve OG Kush & Gelato called #widowmaker
Lineage/Genetics: Private Reserve OG x Gelato
Indica or Sativa: Indica dominant Hybrid
Original Breeder: Pearl Pharma
Grower: Pearl Pharma
Widowmaker Strain Review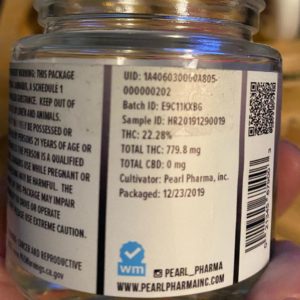 Opening the jar and that familiar Kush pine scent you see the trichromes and feel the gas from a gelato strain. They break apart easily and once again, more gas/Kush & Peppery. Pretty nugs retain shape and structure and allow to pull from the stem for rolling or bong loading. Fingers are not covered in kief which is a good sign of fresher packed herb.
The bubbler was the weapon of choice.
Nice dancing smoke on the inhale, not harsh at all on the throat. Exhale is pretty smooth with an ever so slight berry taste and Kush dank/musky hit. No cough (I don't usually, 🤷🏽‍♂️) mouth is left a little watery; some strains have me dry like the Gobi. Not feeling that here…I'm liking this high as it starts above my left eye and peels back across the top of the scalp. Making it warm and radiating down the legs.
Depending on what you are doing, this feels more of a hybrid leaning strain as I'm not fully locked down to the couch but as having great reductions in fidgeting. The focus is there as well as the giggles.
#thc #weed #weedreviews #pot #marijuanacommunity #marijuana #reviews #sacramento #cannabisculture #cannabiscommunity #cannabisreviews
Advertisements