Strain Review: 4 Lokoz by Space Farms
4 Locoz 🍭🌈🌹🍇⛽️ From the Vaulted Family Heirloom line
@officialdyingbreedseeds @3rd_gen_familyfarm
Grown & selected by @space_farm_
–
–
Lineage/Genetics: (Hindu x Zkittlez) x OG Eddy
Original Breeder: Dying Breed Seeds x 3rd Gen Family Farm
Grower: Space Farm
4 Lokoz Strain Review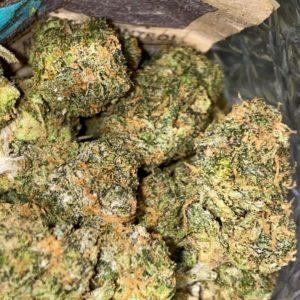 All rite folks, first time with this highly praised breeding crew & first time with a Zkittlez strain/cross. You know i'm in for a ride ❤️
–
–
The bag appeal here is screaming Z little boulders, fiery orange hairs with an awesome blue hue that was hard to capture on my phone camera. Somewhat ugly & beautiful at the same time, but i personally love it 😍
–
–
The aromas, flavors, terpene profile (whatever you want to call it) is at the forefront here. While opening the jar I'm hit by a straight grandma's old perfumery/potpourri/candy sensation but in a truly mouthwatering way oooowwweeee! This sensation is the mixture of strong grape/blueberry lime candy, that further develops in a lavender/violet/guarana floral kick & ends in sweet spicy gas making the Hindu/OG presence an evidence. Never had anything like that before, probably the most impressive terpene profile I ever had. It's loud & clear, multilayered & childhood era evocating. No matter the vaporizer, or the combustion method it tastes exactly like it smell & shines everytime 🤤❤️
–
–
The effects are extremely balanced & feels like the perfect heady stone. Good amount of euphoria, no racy feelings just pure antidepressant & thought provoking goodness. The body is light & functional during most part of the experience. The sedation/couchlock only kicks in at the tail end of the high to round things perfectly & allows you to enjoy the cerebral effect at their best ❤️
–
–
Woow, I'm really impressed by the breeding work done by @officialdyingbreedseeds @3rd_gen_familyfarm . I highly recommend everyone to get their hands on those Zkittlez cross, it's a truly unique aromas & flavor experience that has set a new standard for me.
S/O @space_farm_ for letting me access this strain 🙏❤️
–
–
–
#3rdgenfamily #officialdyingbreedseeds #zkittlez #4locoz #ogeddy #hinduzkittlez #tastetherainbow #strainreview #strainreviews #cannabiscommunity #420 #weedporn #cannabisculture #hightimes
French cannabis lover, that became hooked when first growing OG & Haze in high school.
Advertisements