Cultivar Review: Mushroom Jazz (Peanut Butter Breath) by Foxworthy Farms
Mushroom Jazz x Foxworthy Farms – a Peanut Butter Breath pairing. This bag not only has a matching song by DJ Mark Farina but also a matching hat.
Lineage/Genetics 🧬: Dosidos x Mendo Breath F2
Bred by: Thug Pug Genetics
Cultivated by: Foxworthy Farms
Terpene Profile: Limonene Dominant (Limonene, B-caryophyllene, Ocimene)
Website: foxworthyfarms.com
Foxworthy Farms Mushroom Jazz Cannabis Cultivar (Strain) Review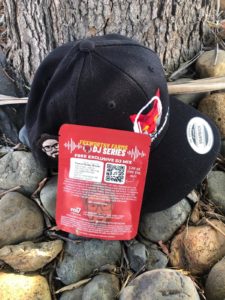 Opening the bag hits you with a big of old growth forest floor. I smell moss, I smell decomposing pine needles. Hell, I even smell a little bit of Jeffrey Pine butterscotch and bright pine needles. The taste is complex. It tastes like… The deep but sharp tones are not well understood by me. Just like the mycological world and the intricacies of creating jazz music. Yet I appreciate both deeply.
The music starts off with the sounds of birds tweeting and it continues as an integral yet non melodic part of the music. I was truly transported to the first day of sunshine after a torrential downpour and walking through the Sierra forests.
Matching a cultivar with a song requires a really good ear. Especially since it's likely that the consumer is not a diehard fan of whatever artist or whatever cultivar they have in front of them.
I'd probably be like Van Gogh at it – which is why I particularly like Foxworthy Farms' approach. Usually you only get a sense of the growers' nose and taste preferences through his or her bud, Foxworthy Farms shares the muzik too.
Each cannabis purchase is an opportunity to get to know the brand better – if you enter with that mindset. Foxworthy Farms has made the experience about a new to you piece of music.
Also, even if you've tried any of these strains before. I guarantee that the sungrown Foxworthy version will hit you a little differently.
Foxworthy is a fucksworthy farm.
Founder of The Highest Critic
Unpaid /r/trees mod
Certified Ganjier
Kine bud enthusiast
Advertisements