Strain Review: Pure Michigan by Dank Dabs
Pure Michigan – @dankdabs_1
Nose: Gassy, skunky, evergreen mint, piney, menthol, citrus garlic
Inhale: Diesel, earthy, mossy, cheesy, piney, burnt rubber
Exhale: zesty, musty, doughy, cakey, diesel, minty
Lineage/Genetics 🧬: Oreoz x Mendo Breath F2
Bred by: 3rd Coast Genetics @3rdcoastgenetics
Cultivated by: Dank Dabs
Terpene Profile: Unknown
Pure Michigan Cannabis Cultivar (Strain) Review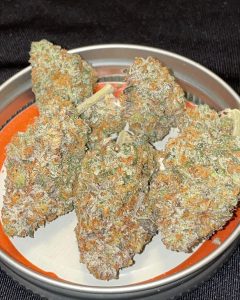 Hey what's up everyone? Happy Saturday! It's finally the weekend and I have another review coming in hot just for the start of it. If you've been following my page over the past handful of months then you've probably noticed this isn't the first time I've reviewed some flower from the Dank Garden on my page. I typically always get excited for weed there's no surprises when it comes to that. However, this particular cultivar (Pure Michigan) I've been waiting to try for more than a minute. This is one I missed back in October and November due to some coordination failures, however, when I learned that Dank Dabs had another run of Pure Michigan coming down I didn't hesitate this time around. This particular cultivar features a cross between Mendo Breath F2 and Oreoz. I've heard nothing but good things about this one from fellow consumers and connissuers and been told that the Pure Michigan packs a pretty hefty punch if done correctly. Let's waste no more time and get into the facts!
This time around, I was gifted the Pure Michigan in the glass "dank" jar. While it featured the normal Dank Dabs branding as usual, I was fascinated by the design for the Pure Michigan. The logo somewhat reminded me of the Patagonia logo as it featured a a bird perched on a tree branch overlooking a beautiful sunset and large mountain. While the design was simple, the colorway really drew me in with its shades of orange, forest green, turquoise, and black. Job well done on this design.
When I sparked the Pure Michigan in an Organic RAW, the initial inhales brought on a big dose of those same burnt rubber terps experienced during the dry pull. This taste was matched by a cloud of skunky, earthy and soil-like terps to give those pulls heavy diesel vibes. On the way out, these flavors were matched with a doughy pine and sweet cake notes making for an very complex terp profile. From the start, the pulls were pressure-some creating a thick build up in the chest as well as leading to some moderate coughing. A little ways into the sesh, that zesty taste fed off a slight taste of pimento cheese during the inhale as well as garlic. At this same point, I also tasted mild doses of evergreen pine. The steady gassiness on the inhales gave this cultivar an OG-like feel with an after-taste of GMO. Deeper on in sesh, I experienced a fresh minty taste during the exhale which left a fresh coating on my tongue. Throughout the sesh, the Pure Michigan joint put a spicy, diesel-like aroma in the air that was exceptionally noticeable when coming back in from outside. The burn on this cultivar was stellar producing a thick white, paper-mâché type ash. Surprisingly, the terp ring was underwhelming given the buds sticky texture and multitude of terps it fed off throughout the duration of the sesh. All in all, I was very impressed by how the Pure Michigan smoked including the rich flavor which made a real treat to burn.
Upon twisting off the cap that sealed up this glass jar, I was met with a zesty and offensively gassy odor. On the front end, I honed into an evergreen mint, menthol-like scent which smacked me in the face like a cold winter day. For the most part though the Pure Michigan featured a sharp dose skunky aromas that were able to be detected from halfway across the room. The quarter I received came with a mix of smaller to larger sized nugs. While I thought the texture this cultivar consisted of was a but subpar, I do believe they held up pretty decently regarding its aesthetics. Made up of a prickly, flaky, and sticky structure I was the biggest fan of how the buds felt as mentioned previously. When I broke down the bright orangish and light green buds, the stickiness became even more apparent than before. This was one of those cultivars, if broken down by hand, you will need to keep some baby wipes close to remove that excess residue from your fingers. Not to ignore the fact that the buds were made up of a thick layer of trichomes as well as an overbundance of pistils spread through each one. Once broken down, I picked up on notes of spicy peppers and garlic adding an extra kick to the multifaceted nose the Pure Michigan beheld. The yield was average and filled the joint with sticky clumps of bud pressed together. When I proceeded to take a dry pull of the joint I was met with notes of zesty burnt rubber and pine to go along with a smooth menthol undertone.
The onset of medicinal effects started near the tail end of the sesh creating a deep state of relaxation including mild weariness. The Pure Michigan served as limb loosener producing a slow, melting body high steadily through the first 30 minutes. Eventually, my legs started to feel numb and wore down forcing me to take a seat on this one. I made the mistake of burning this one on a week day the first time and became a little more groggy than I expected. About an hour in or so the medicinal effects began to make me a bit cloudy as I became increasingly sedated. I also developed a hunger for a full plate of food when under the influence of this cultivar. When it was said and done, the effects lasted for a little over two hours which I thought really made a statement. I thought this served as good high for pain relief and I definitely preferred enjoying it during the nighttime especially after the mistake a made the first time.
After having a chance to try the Pure Michigan by the Dank Dabs crew I must say that this was one of their most impressive offerings. From smell, looks down to smoke and effects this had all-around quality. Despite being a little too stemmy on the texture, this cultivar provided the nose and terp profile that made this feature become simply overlooked. Any smoker looking for a gassy but tasteful cultivar will no doubt want to try this one. I feel like especially if you are one who enjoys Durban, GSC, OG or any high-profile gas cultivar will want to give this shot if you haven't already tried. Additionally, if you like a strong sedative vibe ensuing from the medicinal effects this is for you. Especially patients experiencing any type of chronic pain-related illness will definitely find relief from this cultivar. Again, this was a job well done and definitely not the last time I will have some dank reviews up.